When shopping for the best yoga mat to suit your needs, one of the first things you'll have to decide is what type of mat surface you want. If you plan to use your mat primarily for hot yoga, or if you tend to perspire a lot, you'll want a surface that has good gripping properties when wet. If you are practicing more seated positions and/or tend to stay dry during your yoga practice, then thickness, cushion, comfort, and support are the primary factors to consider.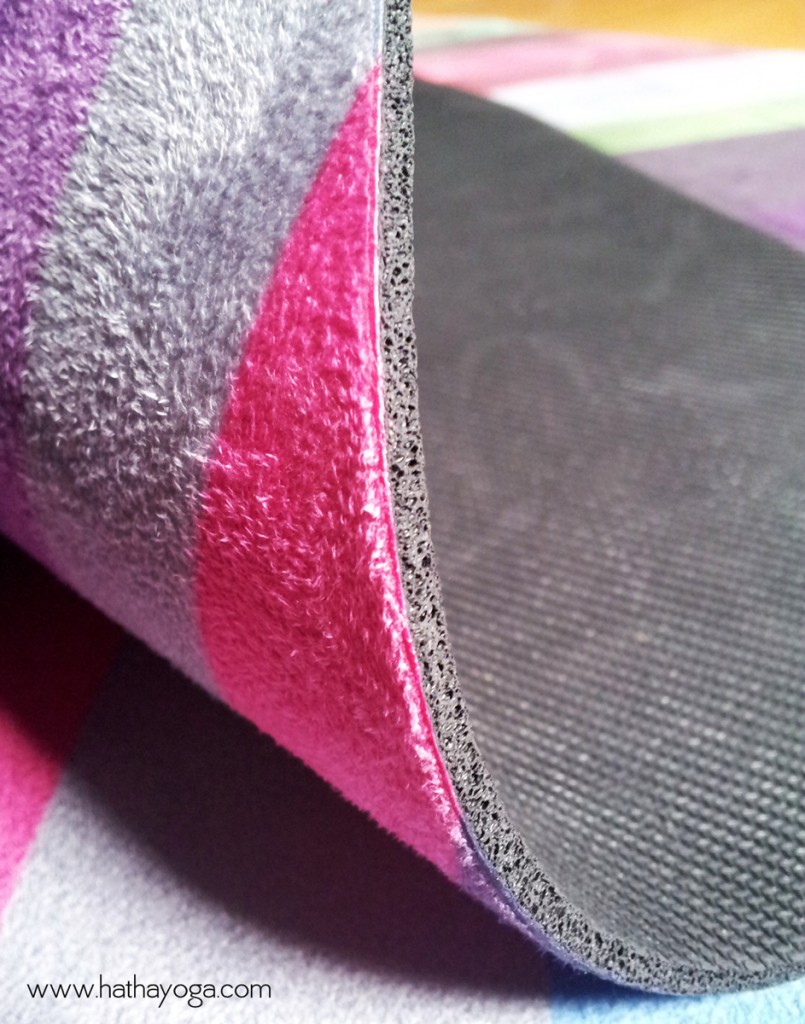 You may also want your mat to be non-toxic, environmentally friendly, and odor free. Other factors to consider are portability, durability, color, design, and of course price. Let's start with an overview of each type.
Comfort, cushion, and stability
For most general yoga practice, if you don't sweat a lot, then a classic yoga mat is best for you. Material and thickness will determine the levels of comfort and support that are optimal for your particular needs.
The main purpose of a yoga mat is to give cushion and traction. Thickness and material determine the amount of cushion. Traction allows you to balance while doing your poses. This is the "stickiness" of a mat.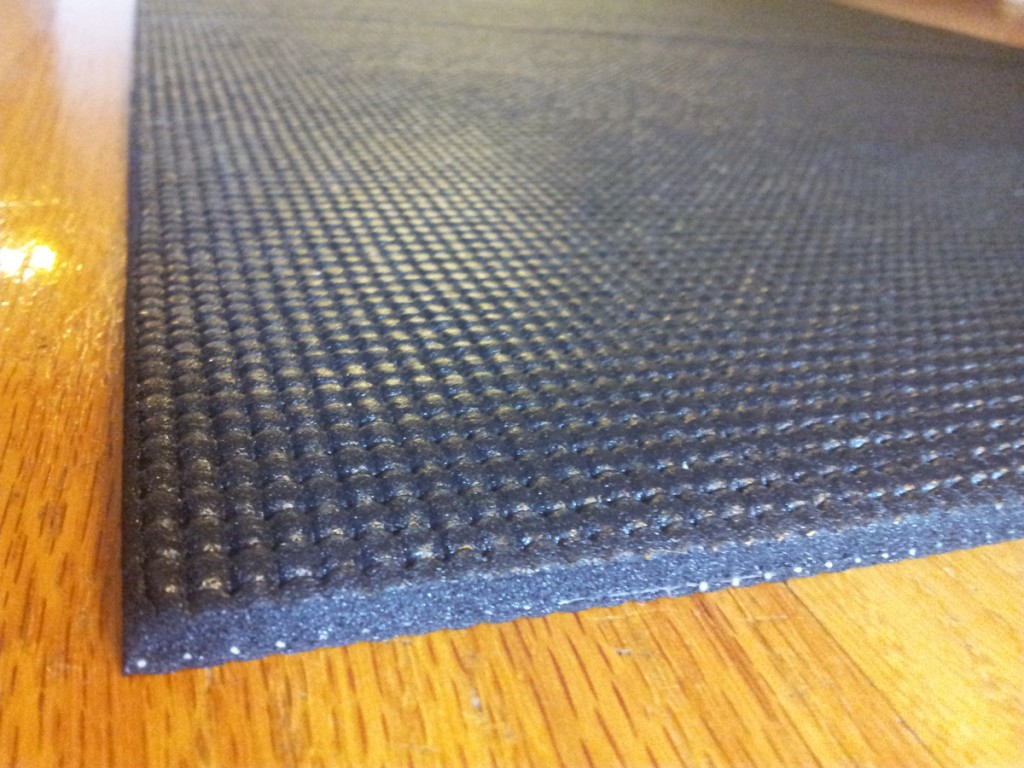 Thickness is critical since you want enough cushion to make you comfortable, but not so much that it interferes with your balance. Standard thickness mats strike a balance at around 1/4". Extra cushioning mats can be a luxurious 1/2" thick. Thin, portable mats can be as thin as 1/16". If you'll be taking your mat to classes, you may also want to consider a sling harness or a carrying tote.
Here are a few of our favorite classic yoga mats. For a complete list check out our comprehensive guide here.
Unless you are very tall, mat size is generally not an issue. Standard yoga mats are 24″ by 68″, which is the best yoga mat size for most people.
Not slippery when wet
If you're pracitcing hot yoga, or if you just tend to sweat a lot, you'll need a mat that can perform when wet. Some mats are specifically designed so that the grip improves the wetter it gets.
One variety that has been surging in popularity lately is the combo mat. Combo mats are comprised of a non-slip top surface fused to a more traditional yoga mat base which provides cushion. The best of both worlds!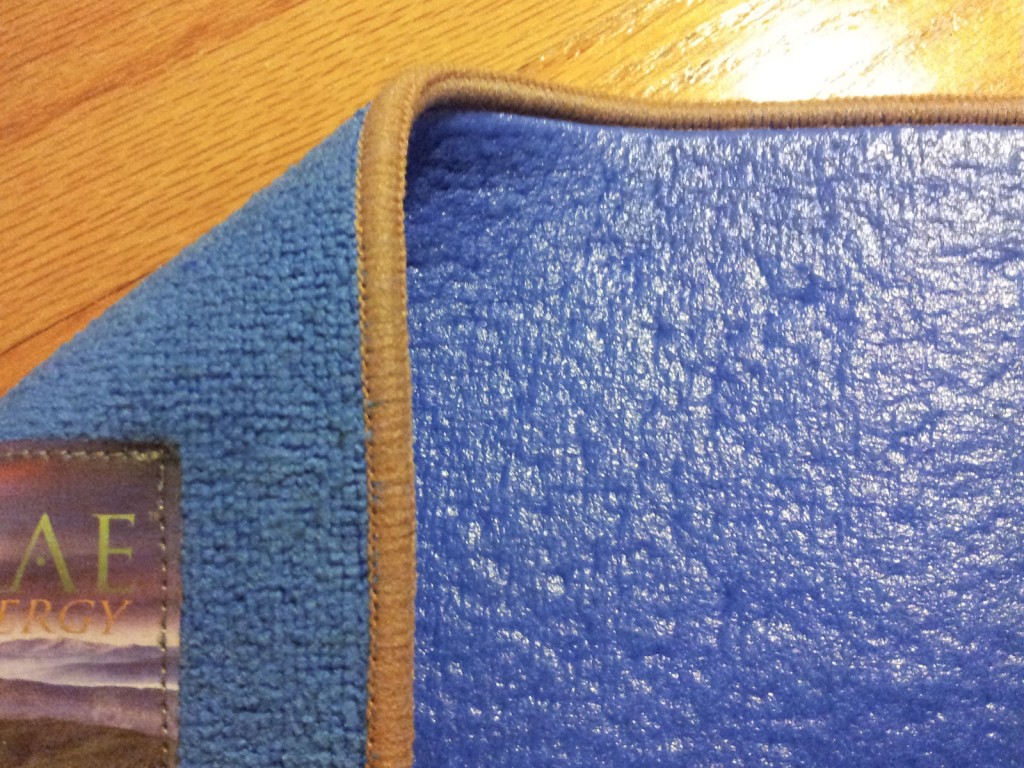 All of the combo mats we've tried have performed extremely well when wet. Because of their construction, combo mats also lend themselves to interesting designs and materials. Some of them are among the best looking mats we've seen.
Here are a few examples of our favorite combo mats. For a complete list check out our comprehensive guide here.
Mat
Size
Cost
Weight
Colors
Material
Score
Yoga Design Lab combo mat
1/8" thick
70"x24"
$68.00
4.1 pounds
11 design options
Biodegradable natural tree rubber & microfiber
4.6
Yoloha Cork Mat
1/4" thick
72"x24"
$119.00
6 pounds
Natural cork
Natural cork surface, backed with domestic rubber from recycled tires. 100% recyclable.
4.1
Aurorae Synergy Yoga Mat / Towel
1/4" thick
72"x24"


$49.95
3.3 pounds
5 options
Microfiber towel with PER backing. Free of latex, silicone and phthalates. SGS approved.
4.7

While they have many positives, combo mats tend to be a bit more expensive than the average yoga mat. One way to get a similar level of performance is by using a yoga mat towel on top of an affordable yoga mat. Like a combo mat, this approach gives you a grippy surface when wet, combined with a cushioned foundation.
Material, stickiness and texture
Mat material determines stickiness, texture, sponginess (responsiveness to pressure), eco-friendliness, and durability. Stickiness is important since it's what keeps you from slipping when practicing certain poses. Texture can either be by design, such as raised bumps, or it can be a feature of the material (such as jute mats, which are organically rough). Texture determines how comfortable the mat feels to touch, and can also affect how much traction a mat provides.
PVC is the most commonly available mat material because of it's affordability and durability. PVC mats are generally the most sticky and spongy. Rubber, jute, and cotton mats are generally not as sticky as PVC, but can have surface texture that helps prevent slippage. Cork and combo mats are designed to be sticky when wet, but not necessarily when dry, so stickiness can be controlled by lightly spraying with water prior to use.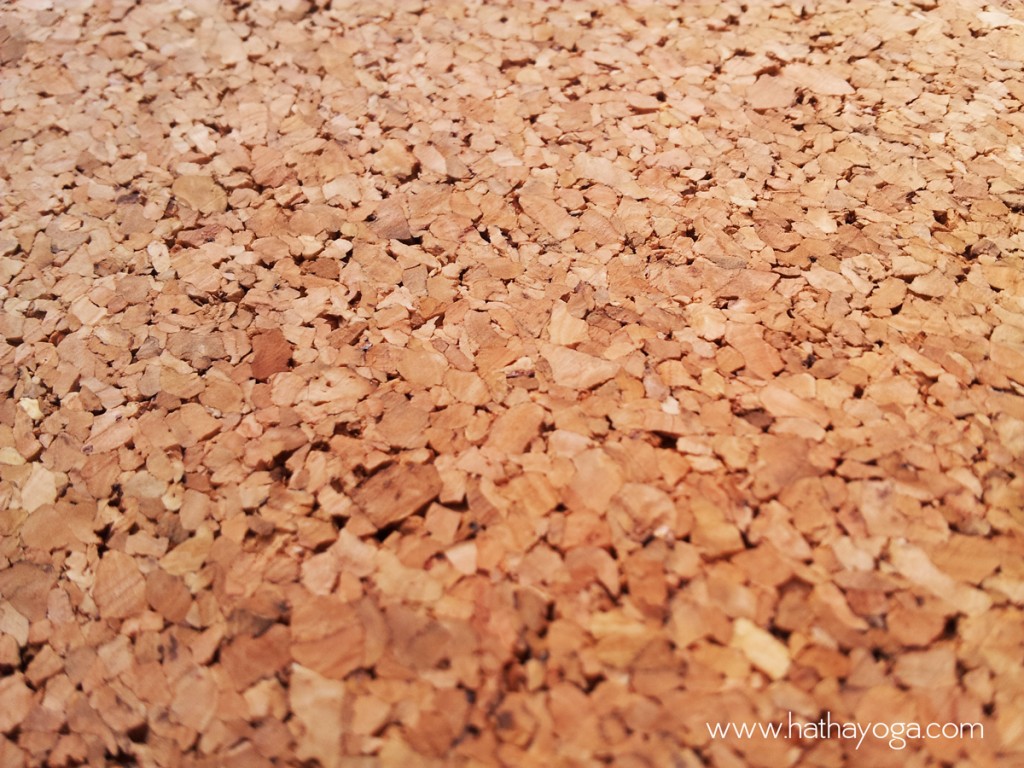 Eco-friendliness
Mats that are made from "foam", or that don't publicize what material they are made of, are most likely made from PVC. Generally mats that are not made from PVC prominently display what they're made of as a selling point.
Not all PVC mats are created equally. Some are manufactured without phthalates and other toxins. However there are no PVC mats that are biodegradable.
Newer more eco-friendly options include recycled and natural rubber, organic or natural cotton, and jute. Rubber mats are the most popular eco-friendly option, but you should avoid rubber if you're allergic to latex.
Cotton is the most absorbent mat material, which is important if you sweat a lot or plan to practice hot yoga. Cotton mats tend to cost a bit more, but are also available in a more affordable rug style. Jute mats feature an organic surface texture which prevents slippage naturally.
Here are a few of our favorite eco friendly mats. For a complete list check out our guide here.
Beware of mats with non-natural materials that make eco-friendly claims. Many companies use environmental issues as a marketing strategy, and claim products are eco-friendly when they really aren't. If it's not a material that grows in nature, it's probably not very environmentally friendly.
Price
Last but not least, price matters. Cheap mats are easy to find at big box stores, but with yoga mats you tend to get what you pay for. Mats under $20 can wear out pretty quickly, and often have a chemical odor. Some of the best selling yoga mats are in the mid $20 range, if you don't mind a PVC mat. Cost generally goes up with the quality of materials, construction, and eco-friendliness.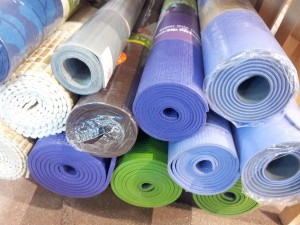 If you're buying a mat online don't forget to consider shipping costs. Many online retailers offer inexpensive or free shipping options on some of the best yoga mats out there. Also depending what state you live in, and what online store you're buying from, shopping online can often save you sales tax.
Beginners kits
If you're new to yoga, the best yoga mat for you may come in a beginners kit such as the Valeo Yoga Kit or the Sivan Essential Yoga 5 Piece Beginners Kit. Beginners kits are usually very competitively priced, and have extra accessories like blocks and straps which are used in many styles of yoga. The Gaiam Yoga for Beginners Kit even comes with a DVD with introductory workouts to get you started.
Cleaning and care
When you find your own best yoga mat it's a good idea to wash it before you use it. This will remove any factory odors. Additionally, some new mats are slippery until you break them in, and washing will help with that.
Cleaning the mat after each use is important to help it last. It's important to remove sweat and body oils, which can cause mats to deteriorate. Yoga mat cleaning sprays such as the Aurorae Organic Yoga Mat Wash can make clean up easy. You can also make your own at home, check out this fun video:
Don't forget to store your mat in a cool place. Heat or direct sun can cause even the best yoga mats to age prematurely.
Finding the best yoga mat for you
Now that you have seen the options and reviewed our top picks for the best yoga mat on the market, its up to you to pick which one meets your needs in your price range.
New mats come on the market frequently, so we'll update our guide as needed. But if you feel like we missed a superior mat that needs to be included on the list, or if you have your own tips on finding the best yoga mat, please let us know in the comments below. Namaste!:)
Related Posts: