After having recently completed Richard Hittleman's Yoga 28 day plan, I thought it would be good to compliment it with a more contemporary program. So I'm giving Mandy Ingber's Yogalosophy 28 Day Mind-Body Makeover a try.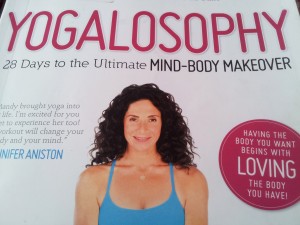 Like the Hittleman plan, Ingber's program is more than just a 28 day exercise guide. It's a way of thinking and a way of being. The intention of the book to have a positive impact on your life no matter what your goals are.
Achievable and effective
Mandy Ingber's Yogalosophy 28 Day Mind-Body Makeover is a great book for anyone wanting to jump start a healthier lifestyle, both mentally and physically. You should be realistic about what to expect in 28 days. However, it's long enough to establish some good new habits and to see and feel real results, yet short enough to be doable.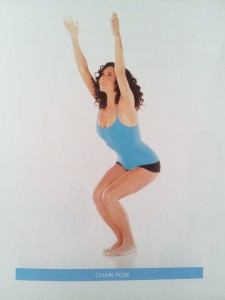 The book is also helpful even if you already lead a generally healthy lifestyle but are looking for another type of physical activity to do, at your own pace, in the convenience of your own home.
Positive motion
Ingber presents her program in a way to keep you motivated. Her approach is practical as opposed to rigid. It's not an all or nothing plan, which to me seems sensible.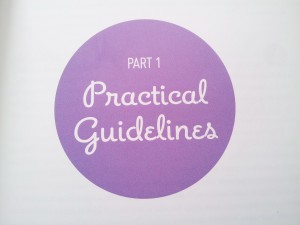 She keeps in mind that our needs and moods tend to be cyclical. Ingber makes it so that even if you aren't feeling 100% one day, you can can still consciously act in a way that keeps you moving toward your goals.
So if you aren't having a great day, you won't feel set back or defeated. Instead, you can still move forward in some way. At the same time the program is motivating and "structured to provide both consistency and change".
What is Yogalosophy anyway?
Yogalosophy is a term Mandy Ingber coined to describe how she fuses yoga with other ways to get in shape, both physically and mentally. People shouldn't expect Ingber's teachings to be pure yoga. They aren't intended to be. Ingber explains "Yogalospohy is more than just yoga, because yoga is just one of its modalities".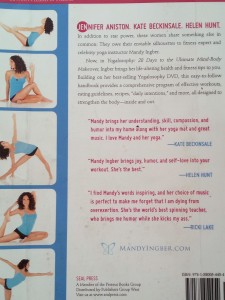 Mandy Ingber has trained and given fitness advice to some of the most admired "figures" in Hollywood, such as Jennifer Aniston and Kate Beckinsale. Yet she reminds us in the book that we are no different, and that we all have the exact same four components: a body, willpower, emotions, and Mandy Ingber herself to help us along!
Three elements to Mandy Ingber's 28 day plan
There are three elements to the Yogalosophy 28 day plan: the Yogalosophy exercise routine, the food plan, and the extra daily activities. The "extra credit" activities include things like additional poses, journaling, and breathing exercises.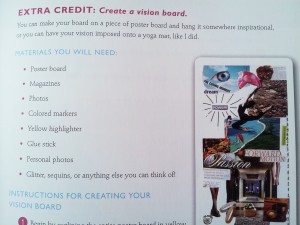 Each day includes a routine of postures and toning exercises. Ingber does a great job of illustrating each posture with clear instructions and photos of herself performing them.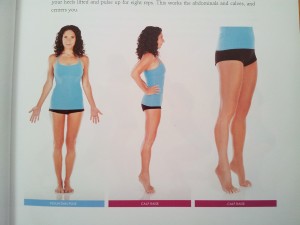 Side note: If anyone feels the need to see these poses in motion, I highly recommend Mandy Ingber's Yogalosophy DVD. The Yogalosophy DVD is not the video version of the 28 Day plan, but primarily a physical yoga and toning exercise program. However, both share many of the same exercises. You can read my review of the DVD here.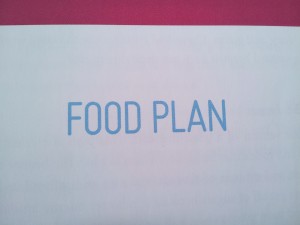 How to eat
There are three food plan options for the 28 day program: A. Clean, B. Lean, or C. Green. Personally, I prefer option C, the Green food plan, which is plant based and free of any animal products. Not only is this more aligned with yogic philosophy, but there is much evidence that this is the healthiest option. Plus, when you choose the Green food plan, it's like winning the jackpot since you also automatically get all the benefits of the Clean and the Lean!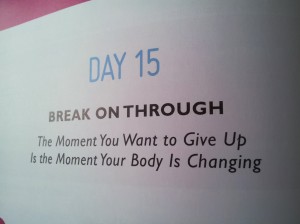 Moving forward
As is often the case, the tough part to committing to a 28 day plan is just getting started. But now that I am well under way, I can't wait to see where else it takes me.
So, that's it for part one of my Mandy Ingber's Yogalosophy 28 Days to the Ultimate Mind-Body Makeover review. I'll report back when I've completed the program and let you know how it goes!
Related Posts: