As I mentioned in part 1 of my review of Mandy Ingber's "Yogalosophy 28 Days to the Ultimate Mind-Body Makeover", not only is this book a complete workout guide, it also encourages a positive way of thinking and being.
In part 2 of my review, I'll focus more on the philosophical perspectives of Ingber's Yogalosophy. I feel that the mindfulness aspects are equally as important as the yoga and fitness aspects of your practice.
Set an intention
One of Mandy Ingber's "yogalosophies" is "The way you begin something has great effect on the outcome." Ingber says "One of the all-time great takeaways from yoga is the power of setting intention", or as she puts it "Name it to claim it."
Whether you are practicing yoga, or aiming to achieve other personal goals, setting your intention puts everything in positive motion. It's like planting a seed. My intention for this post is to help people realize what a great book I've found in Mandy Ingber's Yoglalosphy!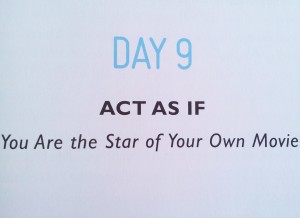 Although much of the book is about getting physically fit, it is much more than that. It is beneficial to mental and emotional fitness as well. The book is intended to encourage and inspire. Ingber has a talent for doing this. Her writing seems to come from the heart. She writes with sensitivity and with humor, which I find very engaging.
Mandy Ingber gets personal
Ingber shares a number of interesting stories and experiences. I hope she writes an autobiography someday. I for one would love to read it! She's a great communicator and seems to intuitively know how to connect with people.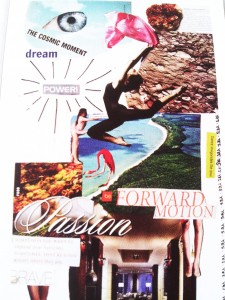 Declare your vision
Ingber gives instructions on how to create your own vision board where you can visualize your goals and desires. She says she finds vision boards as and important and effective tool in helping to reach goals. She believes having it right in front of you can allow your subconscious to absorb it all.
In the book Ingber stresses the importance of appreciating and being aware of the senses we take for granted, and being grateful for all we have. One of the activities in the book is to keep a daily gratitude list.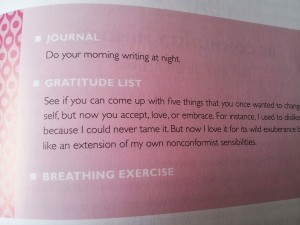 There's a really great discussion on day 5 where Ingber explains how "Energy flows where the mind goes." The section is titled "Think Your Way Thin", however, this process of paying attention to your inner thoughts and working through the self-defeating ones can be applied to any aspect of your life where you feel stuck.
Keep it positive
Ingber suggests instead of simply blocking out negative, self-defeating thoughts, try to find a way to put a positive spin on them. It's turning an obstacle into an opportunity.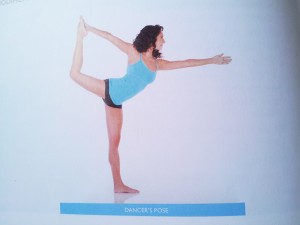 For me, a back injury made me think about my overall fitness which in turn reintroduced me to yoga. I realized yoga is something I need and want to do for the rest of my life. Something which was quite a negative setback for me turned into something that has improved my overall quality of life and has helped be to become stronger and more fit than I was before the injury. I intend to stay that way and I believe hatha yoga is the way.
Breathe in the air
There is a section in the book on breathing, which I found extremely helpful, especially since I often have the tendency to hold mine without realizing it. Breathing properly can effectively enhance your energy.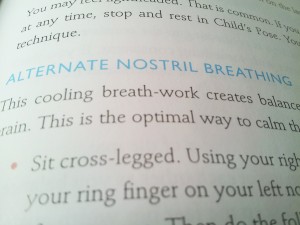 Ingber also talks about the alternative nostril breathing technique. My yoga expert mom Lee taught me the technique, which she learned from Richard Hittleman. There are many benefits to this technique including relaxing your nervous system, while at the same time boosting your positive energy. It's useful in regulating your body temperature, and is also helpful in headache relief. In addition, alternate nostril breathing can be a great way to prepare for meditation.
Yummy, easy, healthy
I like how Ingber includes an easy recipe at the end of each day. This makes you more likely to give it a try. I also appreciate the fact that they are mostly plant based recipes, which I firmly believe is the cleanest, healthiest and most satisfying way to eat.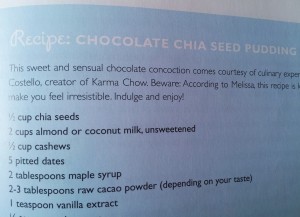 There's an excellent section on self-nurturing. Ingber explains how important it is to remember to take care of yourself. This is especially important if you are the type to always put others first. It is honorable and important to look after others' needs.  But if you don't take care of your own needs as well, you won't be useful to yourself or anyone else.
Strike a pose
The Yogalosophy book has quite a few more poses than the DVD has. If you are unsure how to perform any of the poses, it might be a good idea to consult with an experienced yoga instructor in person. And of course, be sure to always check-in with your physician whenever embarking on any physical activity that is new for you.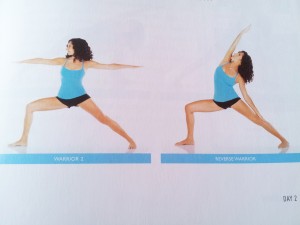 Nobody's perfect
Ingber also talks a lot about not trying to be so perfect all the time. This takes a lot of pressure off of your yoga practice, so you can approach it in a way that is more natural for you. Not trying to be so perfect also takes the pressure we put on ourselves throughout life in general.
She does not mean to imply that meeting goals does not require effort. But putting undue stress on yourself just isn't worth it.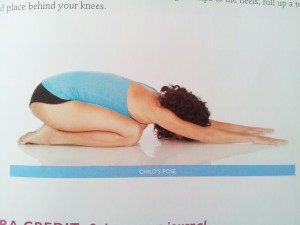 The student becomes the master
Ingber states that her goal is not to serve the tradition of yoga. Yogalosophy is more about finding ways that it can serve you and help you "become a master of your own journey."
I highly recommend Mandy Ingber's "Yogalosophy 28 Days to the Ultimate Mind-Body Makeover".
Related Posts: