A yoga mat is the most essential thing you need to do yoga. It's also one of those things that you just have to have one of your own (nobody is borrowing my toothbrush!). The things I considered while shopping for my first yoga mat included thickness, length, and of course price.  Mat material is also important to me. Stickiness/slipperiness is an important consideration, especially since I tend to sweat.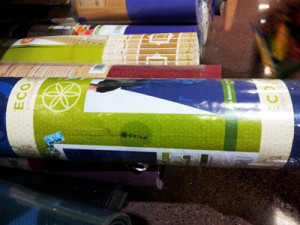 Since I'm a beginner, I checked out the Gaiam Yoga For Beginners Kit.  It seems like a very good deal since it has some extras and the price is very competitive, but unfortunately I couldn't find how thick the mat is, or the length and width.  For me the thickness is probably the most important consideration. I'm pretty sensitive to putting weight on my ankles knees and elbows, so I'm not going to buy my first yoga mat without knowing the thickness.
Since I was focused on thickness, the next mat I considered was the Prosource Premium 1/2-Inch Extra Thick High Density Yoga Mat.  At 1/2″ thick it's basically one of the thickest on the market, and at around $20 the price is very competitive. However the material didn't look super comfortable to me. I also heard some people say that 1/2″ mats are actually so thick that they make it a little hard to balance.  Since my balance isn't great anyway that was enough motivation for me to move on and look at other mats.
My first yoga mat
As they say the third time's the charm, and I ended up buying the YogaAccessories 1/4" High Density Yoga Mat.  The price was comparable to the Prosource at around $20, and it gets great reviews online (I'll give you my own review after I receive it!).  It's extra long at 74″ (with the standard width of 24″), which is a plus for me since I'm 6′ tall.  I got black since color isn't really that important to me, but it comes in a wide variety of colors.  The material looks really comfortable to me (Amazon has a close up pic):
:
I'll give it a full review after I've tried it out. Can't wait for my first yoga mat to arrive!
Related Posts: