The cost of yoga mats can vary quite a bit. The price is usually related to the materials, the quality of craftsmanship, and country of manufacture. But there are a number of inexpensive yoga mats out there that just might suit your needs.
Our guide below allows you to compare the features of some of the most popular affordable mats out there. Beneath the guide you'll find in-depth descriptions and additional photos of the best sellers. Click on any column header to sort the table, for example by cost, thickness, or material:
The 7 columns in the guide are:
Mat name & picture (click to view more details or to purchase).
Mat size dimensions in inches
Mat price – These are current prices on Amazon.com in U.S. dollars. Outside the U.S., click the price in dollars to see the price in your local currency. In some cases price will change depending on mat color and/or style.
Mat weight in pounds.
Color and/or style options.
Mat material (more on mat materials below). SGS is a private, independent laboratory that tests many types of products and makes recommendations regarding consumer safety.
Rating – This is the average user rating on Amazon.com, where 5 is the best possible rating. It can be very helpful in deciding whether people were satisfied with their purchase.
Shopping for inexpensive yoga mats
One popular brand of inexpensive yoga mats is YogaAccessories. The average price for a YogaAccessories mat is about $20, depending upon color. They have over 20 colors to choose from.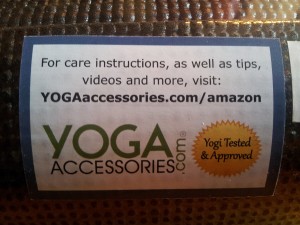 Even though they're inexpensive yoga mats, they boast some appealing Continue reading →