Today I came across something which is currently my new favorite yoga accessory: The Yoga Cat Mat! It's a mat and toy made especially for yoga cats, from the yoga curious to the full on feline yoga gurus.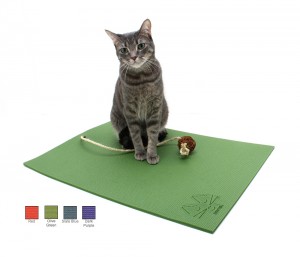 I can totally relate to how the Yoga Cat Mat's creator, Paige Hodges, likely came up with the idea. On the "About" page Hodges explains, "In order to accommodate the felines and make room for myself on the mat I''ve learned to modify poses in ways that would make my yoga teachers cringe in horror". In addition to getting a huge kick out of this, I was also relieved to discover that I'm not the only one that has to move my asanas to make way for the whiskered warrior poses.
Not only do my cats have the need to coach me when I'm in the middle of my yoga practice, but both my Mom and I have had our share of mats redesigned by our four-legged family members' "sharp" sense of style. I can't believe I never even thought of getting them their own kitty yoga mat!
The Yoga Cat Mat
The website for the Yoga Cat Mat is so cute and cleverly written that anyone who practices yoga and has cats will enjoy and appreciate it. For example, one of the selling points, which is marketed directly "to the cat", is that the mat is an ideal spot to "Practice that most challenging of asanas – Shavasana aka resting pose." Too funny! No doubt cats purrfected this pose long before yoga even existed.
What's also great is that the mat is made with dyes and inks that are phthalate free, and it "offers something that can't be found on your human's yoga mat – a special kitty yoga prop". Each Yoga Cat Mat comes with an attached sisal rope with a catnip stuffed twine ball. Yoga has never been so much fun!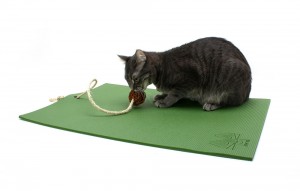 The product description closes with "And remember, just because you have your own yoga mat doesn''t mean you still can''t get on your human'"s mat. You can! Just make sure they don''t get on yours". Of course they will still get on our mats, but just imagine how amazingly cute it would be if they did have their very own! I think the trick here would be to bring theirs out at the same time as you roll out yours.
The best part of the whole thing is that not only has Hodges been practicing yoga for over 20 years, but she is also dedicated to cat rescue, and a portion of every sale of the Yoga Cat Mat is donated to helping homeless cats. How awesome is that?!
You can get your own kitties' Yoga Cat Mats at FelineYogi.com. It would also be a fun, cute, and clever gift for any other yoga practicing cat person in your life!
(photos courtesy of www.felineyogi.com)
Related Posts: