The past few years have brought many new options for people seeking alternative treatments for pain. Home applied TENS (transcutaneous electrical nerve stimulation) therapy has become quite popular. Portable TENS units are pocket size, battery operated devices that send low-voltage electrical currents along nerve fibers to reduce pain. There is a wide variety of affordable options on the market these days, and our guide can help you find the best TENS unit for you.
Below the guide, the column titles are explained, and there is also more in depth information about the various features to consider. You can sort the table any way you like by clicking on the column headers. For example you can sort the table by price, power source, or rating:
The 7 columns in the guide are:
Unit manufacturer and model name (click to view more details or to purchase)
Power source – either rechargeable by USB, or disposable batteries
Price – These are current prices on Amazon.com in U.S. dollars. Outside the U.S., click the price in dollars to see the price in your local currency. In some cases prices will be different depending on which vendors have the unit in stock.
Number of electrode pads included with the control unit
Whether the unit is dual channel or not (see below for more info on the dual channel option)
Number of different modes or programs the unit is capable of
Rating – This is the average user rating on Amazon.com. It can be very helpful in deciding whether people were satisfied with their purchase.
Same product, different packaging
The differences in most of the units in our guide above are obvious just by looking at them. But if you look closely at a few of the units, you might notice that they look extremely similar (see the TruMedic, the PurePulse, the Prospera, and the Santamedical). In fact, literally the only difference between them is the brand name and logo. The units themselves are exactly the same model, made by the same manufacturer.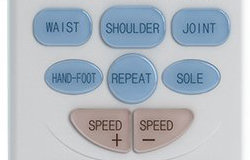 What happens is that a big manufacturer in China sells the same unit to several different distributors in the United States. Each of the distributors then puts their own name and brand on the unit, in their own branded packaging.
Though the product is the same, different distributors offer different prices. Sometimes the prices can vary quite a lot. Some brands use good merchandising to get people to pay more for the same item. Don't get caught paying more for a prettier box!
Besides price another factor to consider is the legitimacy of the seller. Some sellers will stand behind their products if you need to return or exchange the unit for any reason, while others may not. If this concerns you, make sure to do some research on a seller before making a purchase.
So which is the best TENS unit for you?
Determining your price range is always a good first step when shopping, and TENS units are no exception. If you're on a tight budget, make sure to factor in the cost of batteries. Disposable batteries of all types will need to be replaced periodically, and that can really add up if you use the unit on a regular basis. Choosing a rechargeable unit will save you money over time.
When considering the different options available, it's important to think ahead about how you will be using the unit. For example if you have pain in more than one area, you may want a dual channel unit. This will allow you to work on two different areas with different intensity levels.
Two channels can also be used on two people at the same time. That's a nice feature when watching TV or relaxing with a friend or partner.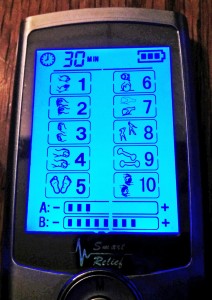 The number and type of modes of operation can vary a lot between units. Some have many options, while some have very few. Some can be more involved to operate, while others may be very simple.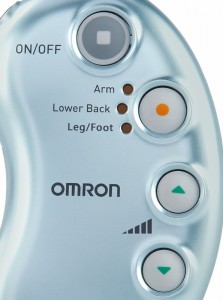 All TENS units have adjustable intensity levels, and most have timers or cycles.
Electrode pads and replacement pads
All TENS units come with reusable and replaceable self-adhesive conductive gel pads. The pads can vary in size and shape. This may be a factor to consider, depending where on the body you intend to place them.
The number of pads may be important in finding the best TENS unit for you. Having 4 or more pads will allow you to work on different areas, or have a greater focus on a single problem area.
After use, pads should be rinsed off with water. Washing them with anything more than water will cause them to age prematurely.
Even if rinsed with care, the conductive gel coating on the pads will wear down with use. Replacement gel is affordable and widely available, however some people find it messy or difficult.
The other option is to replace the pads. Replacements are available in many shapes and sizes. They are also widely available in larger quantities, with significant discounts in cost per unit.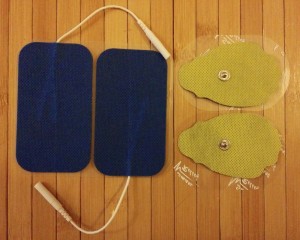 When replacing the pads, make sure that the lead wires of the replacement pads are compatible with your TENS unit. Lead wires are the wires that connect the electrode pads to the TENS unit, and there are several different types on the market that are not compatible with each other.
Electrode placement
How you place the electrodes is extremely important in making sure you have an effective TENS session. The basic concept is to place an electrode on either side of the painful area, so that the electrical impulse directly crosses the affected muscles. This great video explains the concept in detail:
A drug free solution to pain
We've found home applied TENS treatment to be an effective and safe alternative treatment for pain. The best TENS units can provide immediate relief for a variety of musculoskeletal pains.
Since home units have become so affordable, they've become a go-to device for any one looking for self applied pain relief. Instead of paying outrageous rates for physical therapy or massage, you can now treat yourself at home on your own schedule for free.
Related Posts: