The cost of yoga mats can vary quite a bit. The price is usually related to the materials, the quality of craftsmanship, and country of manufacture. But there are a number of inexpensive yoga mats out there that just might suit your needs.
Our guide below allows you to compare the features of some of the most popular affordable mats out there. Beneath the guide you'll find in-depth descriptions and additional photos of the best sellers. Click on any column header to sort the table, for example by cost, thickness, or material:
The 7 columns in the guide are:
Mat name & picture (click to view more details or to purchase).
Mat size dimensions in inches
Mat price – These are current prices on Amazon.com in U.S. dollars. Outside the U.S., click the price in dollars to see the price in your local currency. In some cases price will change depending on mat color and/or style.
Mat weight in pounds.
Color and/or style options.
Mat material (more on mat materials below). SGS is a private, independent laboratory that tests many types of products and makes recommendations regarding consumer safety.
Rating – This is the average user rating on Amazon.com, where 5 is the best possible rating. It can be very helpful in deciding whether people were satisfied with their purchase.
Shopping for inexpensive yoga mats
One popular brand of inexpensive yoga mats is YogaAccessories. The average price for a YogaAccessories mat is about $20, depending upon color. They have over 20 colors to choose from.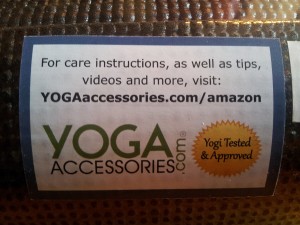 Even though they're inexpensive yoga mats, they boast some appealing features:
Extra thick 6.2mm (1/4"), weighs 3.6 lbs
Phthalate free inks and dyes
Extremely durable, latex and heavy metal free
Limited lifetime warranty
Extra long 74" x 24" wide (Two tone & cool breeze mats are 72″ x 24″)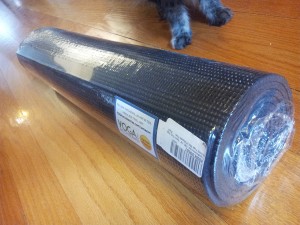 We own a YogaAccessories mat. It provides ample cushion with its 1/4 inch thickness.
At 3.6 pounds, it's not too heavy to tote to class. However, you might want to get a harness or yoga mat bag to carry it and keep it contained.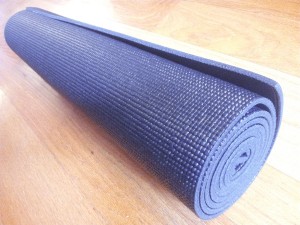 Look for features that are important to you
The look of our YogaAccessories mat is very similar to my Aurorae Classic mat. At first I thought they were identical. The texture appeared similar and they are roughly the same thickness. But after feeling them side by side, the YogaAccessories mat felt a little more stiff and ridged around the edges.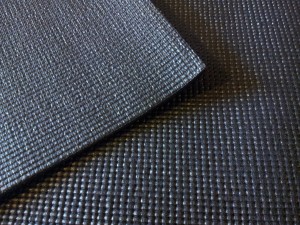 The Aurorae is softer and slightly more cushy. The Aurorae was also a little more expensive, but still rather reasonable. When compared to some mats that are well over $100 such as the Manduka Pro, the Aurorae might actually fit into the category of inexpensive yoga mats.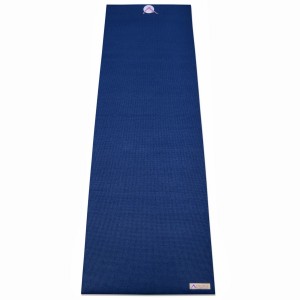 Keep in mind shipping costs
One thing to keep in mind is that if you are shopping for inexpensive yoga mats, you probably don't want to spend a ton on shipping costs. Sometimes the shipping can be almost as much as the mat. That's the case with the Yes4All Premium 1/2 inch Yoga Mat: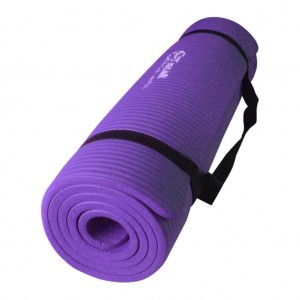 The Yes4All yoga mat was one of the least expensive mats we found. And it comes with its own carrying strap, which is a bonus. However, when you factor in shipping, the total cost ends up about the same as other mats out there that offer free shipping. So if you buy it but decide it's not for you, you won't get the shipping cost back if you return it.
There are a number of inexpensive yoga mats with free shipping, such as The ProSource Premium 1/2-Inch Extra Thick 71-Inch Long High Density Yoga Mat with Comfort Foam: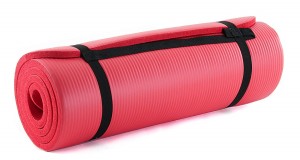 It also comes with a carrying strap, as does the Da Vinci 2-Tone Yoga Mat: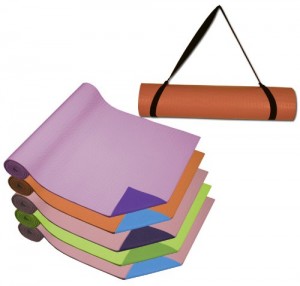 Take a look at the materials used to make your mat
The downside is that many inexpensive yoga mats are made with PVC, or polyvinyl chloride. There are health and environmental concerns related to PVC. You can read more about PVC mats here, and find more scientific info about PVC here.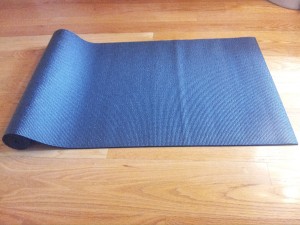 Some people use a towel or inexpensive fiber mat with their PVC mat to minimize any health concerns. But that doesn't really address the environmental issues.
Among the inexpensive yoga mats, however, the ones by Bean Products claim to be made with safer, more environmentally friendly material. I do like their color options.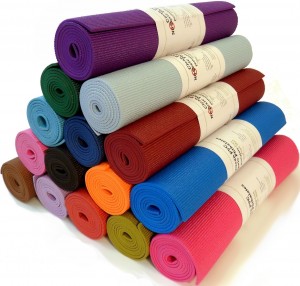 Here is the Bean Yoga Mat product description:
Ultra thick 1/4″ mat for comfort with high grip performance and any color to suit your mood.
Low priced, high performance, easy care, premium yoga mat that is non-toxic & environmentally friendly.
CleanPVC Yoga Monster yoga mat will provide a stable, slip-resistant surface for your practice. Good for all types of Yoga & Pilates. Extra long and extra thick.
Free of toxic phthalates, dioxins and furans, phenal, or heavy metals. SGS tested and verified.
Durable and easy care, machine washable.
Although it is not made from natural rubber, which many of the higher priced yoga mats are, it is made with PER (polymer environmental resin), which is currently believed to be safer form of PVC.
Consider the environment
We discovered another inexpensive mat brand that seems to be safer and more environmentally friendly than others in its price range, the YogaHola Premium UltraSoft and Thick Yoga Mat w/ Carry Strap.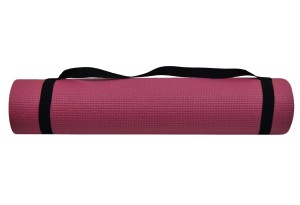 The YogaHola mat is made with TPE, or thermal plastic elastomer. They say their mats have been designed to be toxin-free from raw material to completed products.
Regarding environmental concerns, they claim that the cells of their mats are set to decompose after a certain period of time under heat and pressure, such as in a land fill, leaving only water and biodegradable elements.
We have not yet tried their mats, but they seem pretty promising. Here's their product description:
The YogaHola brand upholds the highest standards of quality, durability and supports an eco-friendly environment
Anti-microbial Eco-Foam mat technology is lightweight, waterproof and eco-safe, latex and phthalates free
Nearly 70″ long and 24″ wide ultrasoft foam ensures maximum comfort for people of all shapes and sizes
Includes the YogaHola limited lifetime warranty plus 100 percent satisfaction guarantee
YogaHola has another mat as well, their Deluxe Premium Super Soft Eco-Friendly Yoga Mat. It appears thinner and lighter in weight, but has similar features as their "Ultra Soft" mat. And it comes with a carrying cord instead of a strap.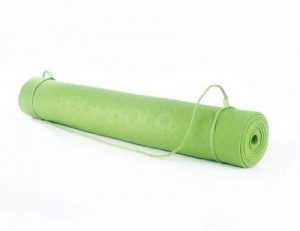 The YogaHola mats actually are the least expensive mats we've seen when you factor in the free shipping.
There are quite a few inexpensive yoga mats to choose from. Hope this helps you find one that suits you. Please let us know what inexpensive yoga mats you like!
Related Posts: