Like most yoga enthusiasts, you probably try and buy different mats over time. Certain mats become your favorites and eventually wear out, while others just sit around taking up valuable storage space. If you have a used yoga mat you think you're not likely to use again, it might be time to re-purpose or recycle it.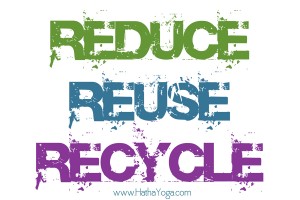 With so many ideas and options to either donate, recycle or reuse your unwanted mat, there's no reason to throw it away no matter what condition it's in. Here are just a few of the ideas we've come across.
What to do with your used yoga mat
Firstly, if you'd like to simply donate or recycle your used yoga mat, mat manufacturer JadeYoga has created a "3 Rs" program, to Reuse, Reduce, and Recycle. Jade's hope is to reuse your unwanted mats by bringing them to people who might otherwise be unable to afford them, to reduce the number of mats going into landfills, and to recycle mats that cannot be reused.
They are doing this by collaborating with a number of studios throughout the U.S. that serve as drop-off locations.You can check to see if there is a location near you and read more about the program here.
If you don't see a drop-off point listed in your area, ask your local studio if they are involved with a mat recycling program. And if they aren't, you can even suggest Jade's used yoga mat program to them! You can also check your local homeless shelters or animal shelters to see if they can use them.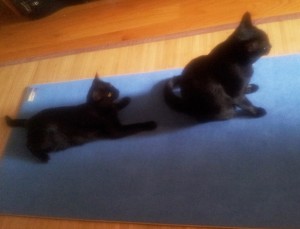 The Bolder Mat Company also has a program for re-purposing used yoga mats, where you can directly donate to a charity in need of yoga mats. You can also suggest a charity to add to their list.
Reduce, Reuse, Recycle…Re-purpose!
There are other ways to re-purpose your used yoga mats, such as finding other uses for them.  Here are just a few creative ideas for reusing your mat that we selected from a list at popsugar.com. Some of these are geared more toward those of you who have kids and/or own homes, but there are also several ideas that the rest of us will find very handy. We put hearts next to some of our faves:
1. Hang it horizontally in your garage to keep car doors from scraping the walls.
2. Use it as a kitchen mat in front of the sink.♥
3. Lay it under your sleeping bag on your next camping trip.
4. Make it into floor covers for the backseat area so your kids' muddy shoes and cleats won't ruin your mats.
5. Carpet the tree house.
6. Wrap it around that attic beam or basement pole you keep running into.
7. Cut your used yoga mat to fit under slippery rugs and runners to keep them in place.♥
8. Put it under the stationary bike or treadmill to protect the floor from sweat and machine-induced scratches.♥
9. Lay it on the laundry room floor in front of the dryer so dropped clothes stay clean.
10. Wrap pieces of it around sharp chair legs, table corners, and fireplace hearths for instant baby proofing.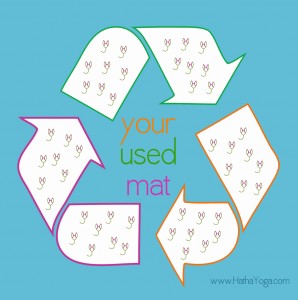 Here are more ideas for reusing or recycling your used yoga mat taken from a list at Daily Cup of Yoga. Of course, always thoroughly clean your yoga mat first:
11. Use it to make a bleacher cushion.
12. Roll out used yoga mats for the kids (or adults!) to do messy crafts projects on.
13. Fold mat in four, place in a pillow cover, and you have a cheap and comfy meditation cushion.
14. Save your good mat for the studio and use your old mat for outdoor yoga.♥
15. Place cut out yoga mat squares under stereo speakers to reduce vibration rattle.
16. Cut out insoles for all of your shoes.
17. Make your own flip-flops from your used yoga mat – check out this how-to video:
18. Place small squares of your used yoga mat under furniture legs to protect wooden floors (glue on with non-toxic adhesive). This works best with rubber mats.
19. Use for a cushy lining and fabric anchor on baby's changing table.
20. Use as sleeping bag pads for camping (especially good for thicker mats).
21. Roll out old mats as floor coverings during painting projects, and save to reuse again in the future.
22. Use mat as extra bedding for pets.♥
23. Cut your mat into one foot pieces (or the size of your preference) and adhere them together for a gardener's knee pad.♥
24. Use it to protect the upholstery in the back seat of your car from sharp, scratchy objects (or to protect your steering wheel and dashboard from heat on hot summer days).
25. Place in trunk of car as a liner to keep upholstery clean and/or prevent things from sliding around.
26. Cut out four squares to use as bases for a neighborhood baseball game.
27. Use as padding around kid's playground equipment, cushions slide landings.
28. Sit just about anywhere you want (wet grass, mud puddle, pile of rocks, etc) with a cushy mat padding.♥
29. Place underneath children's car seats.
30. Use as a door mat when camping to keep your tent clean.
31. Place inside pet carriers for padding and footing.♥
32.Roll out onto the pavement for comfortable do-it-yourself car repairs.♥
33. Use as mat area for muddy shoes.
34. Use as insulation: stuff into small spaces around doors, windows, etc.
35. Use as a place mat for animal bowls.
The list could go on, and does at Daily Cup of Yoga.
To read more about why it's so important to reduce, reuse or recycle your used yoga mat, check out this great post at care2.com.
If you have any creative ideas of your own on how to reuse or recycle, please let us know, we'd love to hear them!
Related Posts: