In my previous post I reviewed the Theracane. I told the story of how I used it to cure 15 years of chronic neck pain by applying trigger point therapy. I learned how to do this from The Trigger Point Therapy Workbook by Clair Davies. It describes in detail everything you need to know to treat your specific condition. I definitely wouldn't have figured out how to treat my pain without this book.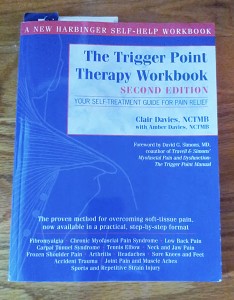 Trigger points are knots in your muscles that can cause pain in other parts of your body. Sometimes the pain is far from the trigger point. That's called "referred pain".
The best way to treat trigger points is with direct massage. The Theracane allows you to locate and work on your trigger points yourself. Massage techniques vary a lot for different parts of your body. The Trigger Point Therapy Workbook gives detailed massage guidelines tailored for each area.
A map of your pain
The book is basically a map of all the muscles in your body. It shows where trigger points are, and where they refer pain. It starts at the top and goes through literally every muscle in your entire body, from head to feet. Though that might sound daunting, the book is so well written and organized that it's surprisingly readable. Plus, you can just skip to the areas that need the most attention (more on that below).
Every muscle is diagrammed and discussed in detail. Trigger points are shown as black dots. Referred pain locations are shown as "hatched" areas.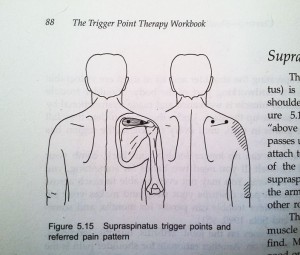 Detailed descriptions of specific massage techniques are included for each muscle. Often they include the Theracane. It's clear that the Theracane is one of the author's preferred tools for trigger point therapy.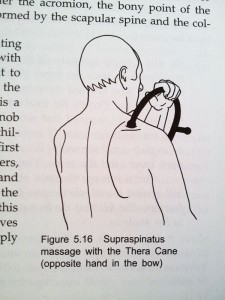 Digging in
When starting the book you might be tempted to immediately jump straight to the body part/s where you're experiencing pain. I recommend reading the first few chapters before you do that.
The first chapter tells the author's personal story of how he came across trigger point therapy. He's a great writer, and his story is actually very relevant. It really sets the stage for how you can apply the technique yourself.
The second chapter gives a thorough explanation of what trigger points are, and how they refer pain. The third chapter includes general massage guidelines. It details best techniques and includes some great tips. Once you've got those ideas down, you're ready to skip ahead to the body parts where you're feeling pain.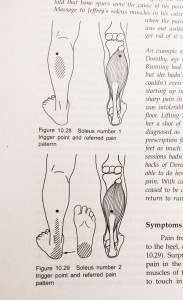 Trigger point therapy for you
The Trigger Point Therapy Workbook is very affordable and widely available. If you're on a tight budget it should be available at your public library. But personally I really like having my own copy. I recommend book marking, underlining or highlighting, and even taking notes in the margin. It's really helpful when I need to refresh my memory about the details of a particular muscle group or trigger point.
Curing my chronic pain was a huge deal for me. For a one time expenditure totaling around $50 for both the Theracane and The Trigger Point Therapy Workbook, I had the tools to fix myself. I have to say I think it's probably the best fifty bucks I've ever spent. The kitties love the book too!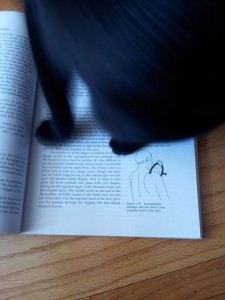 Related Posts: