I suffered from chronic neck pain for 15 years. I tried everything, including physical therapy, massage, acupuncture, and going to a chiropractor. I bought therapeutic pillows and even a new memory foam bed. Eventually I resigned to living with my pain, and thought I'd be rushing to the ibuprofen bottle first thing every morning for the rest of my life. At the end of a physical therapy session one day, my therapist had an idea. She showed me a Theracane and told me to buy one online. I literally haven't been to physical therapy since!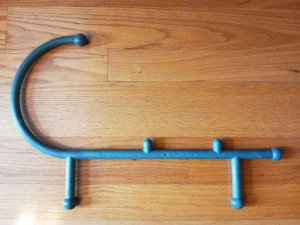 I followed my physical therapist's advice and ordered a Theracane, which allowed me to perform "trigger point therapy" on myself. To learn how I also bought "The Trigger Point Therapy Workbook" by Clair Davies (Update: I've reviewed the book here). The key to how trigger point therapy works is the concept of "referred pain".
Trigger points are basically knots in a muscle. What most people don't realize is that these knots can cause pain in other areas that are far away from where the knot is located. For example, if you had a trigger point in the middle of your forearm, it could cause pain in your elbow or your wrist. That's referred pain. You could massage your elbow or wrist all day, and you wouldn't be affecting the source of the pain (the knot in your forearm).
The way trigger point therapy works is that you massage directly on the trigger points. Trigger points are easy to find since they hurt like crazy. When you're massaging a muscle and find a sore spot, that's a trigger point. The Workbook is basically a map of all the muscles in your entire body. It shows the trigger points in each muscle, and connects them to where they refer pain.
A pain in the neck – literally
In my case, the pain in my neck was caused by trigger points in my shoulder-blade. For years, all the various treatments I tried were focused on my neck, since that's where the pain was. But that isn't where the problem was. The following diagram from the Workbook shows my case exactly: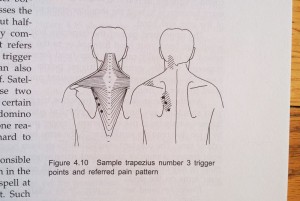 The illustration on the left shows the muscle. The three dots are the trigger points. The illustration on the right shows the referred pain, which are the shaded areas. The shaded area at the base of the skull is exactly where I had my pain. Since my trigger points were in my shoulder, I couldn't reach them to work on them. That's where the Theracane came in.
The Theracane hurts so good
Using the Theracane, I was able to reach those troublesome trigger points. When I first started working on them they were super painful. But it's that kind of pain that weirdly feels sort of good. It definitely felt like I was releasing tension. Something was happening.
After working on my back for just a few days, the pain in my neck started to decrease. At this early stage I was using the Theracane several times a day. I was so happy that I finally had a way to relieve my pain that I actually got a second Theracane to keep near my desk at work.
As I continued to work on my back over the following weeks, I started to have whole days without pain. Anyone who's experienced chronic pain knows what a big deal that is. After a few more months, I started to notice that days without pain turned into weeks without pain. Eventually days with pain became a rarity!
The new normal
As the pain decreased, I used the Theracane less and less often. Now I'm at the stage where I try to use the Theracane a few times a week for prevention. It's easy to do when watching TV, or similar passive activities. But if I do feel pain coming on, after a few minutes with the Theracane it's gone. I'm finally able to control the pain without drugs! Truly amazing.
Using the Theracane is pretty easy, it is definitely not rocket science. Basically you just need to learn how to leverage it to get at your trigger points. The Workbook has great diagrams which help you do this. After a short learning curve it's really easy to use.
The Theracane is sort of like a giant candy cane with handles (as you can see in the picture above). It's about 2 feet long and 15 inches wide. It's made of green plastic which is smooth and easy to handle. It's also super sturdy. I'm a pretty strong guy and I've put it to the test. The Theracane can definitely take it.
The cost of pain
Over the 15 years I had chronic pain, I literally spent thousands of dollars on all the treatments I mentioned. A single physical therapy appointment used to cost me $135, and that's after my health care coverage's contribution. I shudder to think what the total amount I spent was if I added it all up. I'm quite sure I spent more money on my neck than I did on my car.
Now after a one time expenditure totaling around $50 for both the Theracane and The Trigger Point Therapy Workbook, I can treat myself at home any time I want. The Theracane has literally changed my life. If you have chronic pain in your joints, muscles, etc, I can't recommend getting a Theracane strongly enough.
Related Posts: