The biggest complaint I hear about traditional mats is that they can be too slippery. When people practice hot yoga and/or work up a good sweat, they often find themselves sliding out of pose. Not only is this counterproductive, but it is potentially dangerous.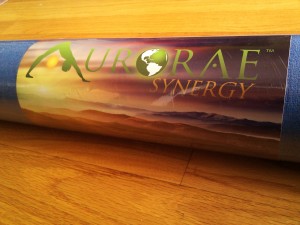 One company that has created a solution to this problem is Aurorae with their Synergy Yoga Mat – Towel. It is not a separate yoga towel. It's an actual yoga mat that is merged with a microfiber towel. The two pieces are bonded together.

It's an unusual item. For a while I had been very curious to try it, especially since I really like my Aurorae Classic mat. Well, I finally got my chance.
I was surprised to find that it is actually lighter in weight than my Classic mat. I assumed it would be heavier because of the bonded towel. But the Synergy Yoga Mat – Towel uses a 5mm thick bottom layer, whereas the Classic mat is 6mm.
It rolls up very nicely as well, not bulky. The bottom mat layer matches the color of the towel layer. I have the blue, but I assume all colors have matching layers.
The edges have a woven neutral color trim, which is a nice touch. The weave will also likely help slow down wear and tear.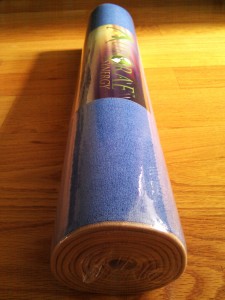 But what does a "yoga mat – towel" feel like?
I was afraid the towel part might be too cushy, or that the microfiber would be too slick. I also wondered if it would not feel as stable as a traditional mat. But the towel layer feels just right for its purpose, and has an appropriate amount of thickness. It's enough to be absorbent while you can still feel the cushion and security of the mat itself.
It is much more stable than having a separate towel and mat. With a bonded yoga mat – towel, you don't have to worry about adjusting a separate towel, or having it bunch up and interfere with practice.
I really love the feeling of the Synergy Yoga Mat – Towel. Not just the texture of the towel layer, which is quite nice in and of itself, but the feel of just being on it. It's comfortable and comforting. The first thing I did when I opened it up was to lie down on it and say "ahhh". A perfect Savasana (resting pose) mat!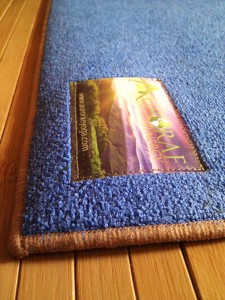 But as lush and comfortable as the Synergy is, keep in mind you really should be careful how and when you use it. As Aurorae states, the mat – towel works the opposite of their Classic and Northern Lights mats. For the Synergy Mat – Towel they say, "The wetter it gets, the better your grip will be".
Wet traction
For those who don't have naturally moist hands and feet, Aurorae suggests lightly spraying the Synergy mat with water before each practice. This will help with traction. As you perspire, your grip will actually get better. That's not the case with traditional mats.
So, I thought I would see for myself and I tried it completely dry. Just rolled it out and did my practice with no spray to start. But sure enough, Aurorae was right. During a non-vigorous, non-sweaty yoga routine I found myself gradually sliding during a couple of warrior poses since my feet were so dry. Needless to say, I did not look very warrior like at all!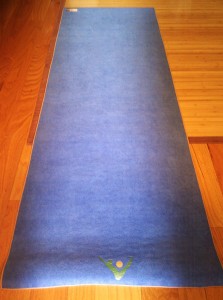 So, for asanas such as the Side Angle Pose, Downward Dog, or any of the Warrior poses, if you're not already building up a sweat, I would take Aurorae's suggestion and lightly spray dampen the areas of the mat where you place your feet and hands. Since the mat – towel functions the opposite way of most other mats, you should not spray dampen a traditional style yoga mat before practice for obvious reasons.
Resting poses
In addition to the Synergy Yoga Mat – Towel being ideal for hot yoga, as I mentioned, it is a great mat for savasana. Because of its comfort, I would also recommend it for meditation and/or practice consisting of all lying and seated poses.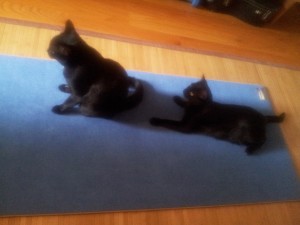 Besides enhancing Yoga practice, I could totally see taking it on camping trips and sleepovers and using it as a sleeping mat! I actually did sleep on it one night at home already when my back was needing extra support. I know this is unrelated, but it helped!
What's especially convenient is that Aurorae's Synergy Yoga Mat – Towel is machine washable. I will probably take advantage of that occasionally. But on a regular basis I prefer to hand wash my mat in the tub. I think this will help the lifespan of it. Also, it is strongly advised to hang dry only. Do not put it in the dryer or you will be very sad to have ruined such a beautiful mat.
If you've had your own experiences with a yoga mat – towel, please let us know!
Related Posts: