People often ask us "what's a good yoga mat for hot yoga?". There are a number of options, and much of "what is good" depends on personal preferences. But the main thing you want to look for is a mat that has a good grip when wet (or you could use a yoga mat towel over an all purpose mat).
There are indeed mats that are made especially for hot yoga. We recently tried out the Combo Mat by Yoga Design Lab and it really fits the bill. Even better, Yoga Design Lab is a company that prides itself on "blending fashion-forward design elements with innovative functionality and bio-renewable consciousness."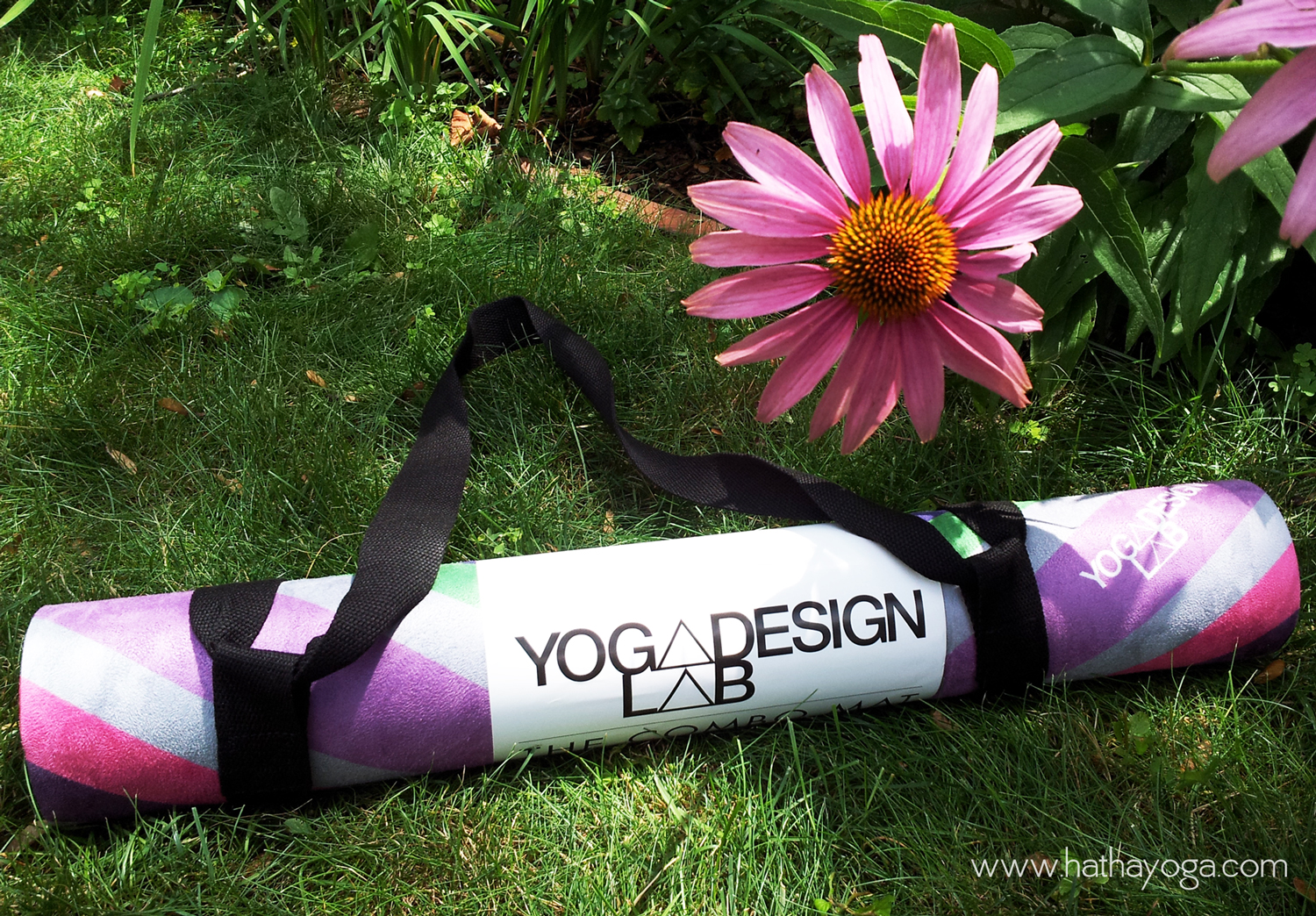 Yoga by design
First off, the company has definitely earned the right to have "design" in its name, as the mats themselves are quite aesthetically pleasing. These are some of the most beautiful mats on the market, ranging from bright geometric patterns to soothing sunsets.
We got the Yoga Design Lab Chevron combo yoga mat and it might be my favorite design of the bunch. I really like the striped chevron pattern and its particular combination of colors. It's visually energizing but not too busy to practice yoga with. I think it's gorgeous.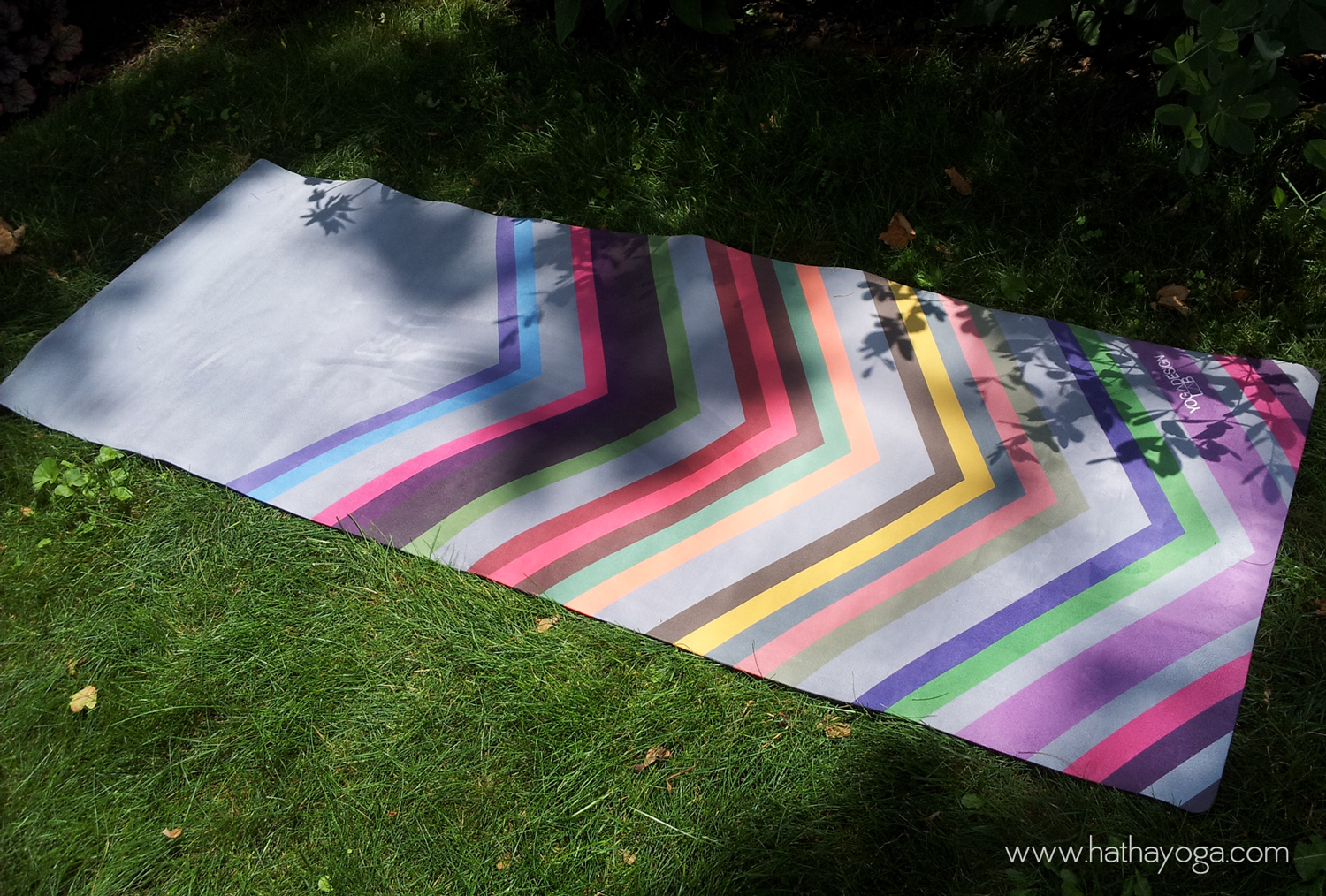 While I'm pretty thrilled about the mat's appearance, there's much more to a yoga mat than just good looks! An even more important aspect of good design is how well the product performs.
In the case of the Yoga Design Lab combo mat, it is designed specifically to improve grip when perspiring or when practicing hot yoga. The reason it's called a "combo mat" is that it is essentially a rubber mat bonded with a top layer of super soft absorbent microfiber.
Having the two bonded layers replaces the need for a separate mat plus a yoga towel. It's an all-in-one and is actually reversible if you want the option to just use the rubber side.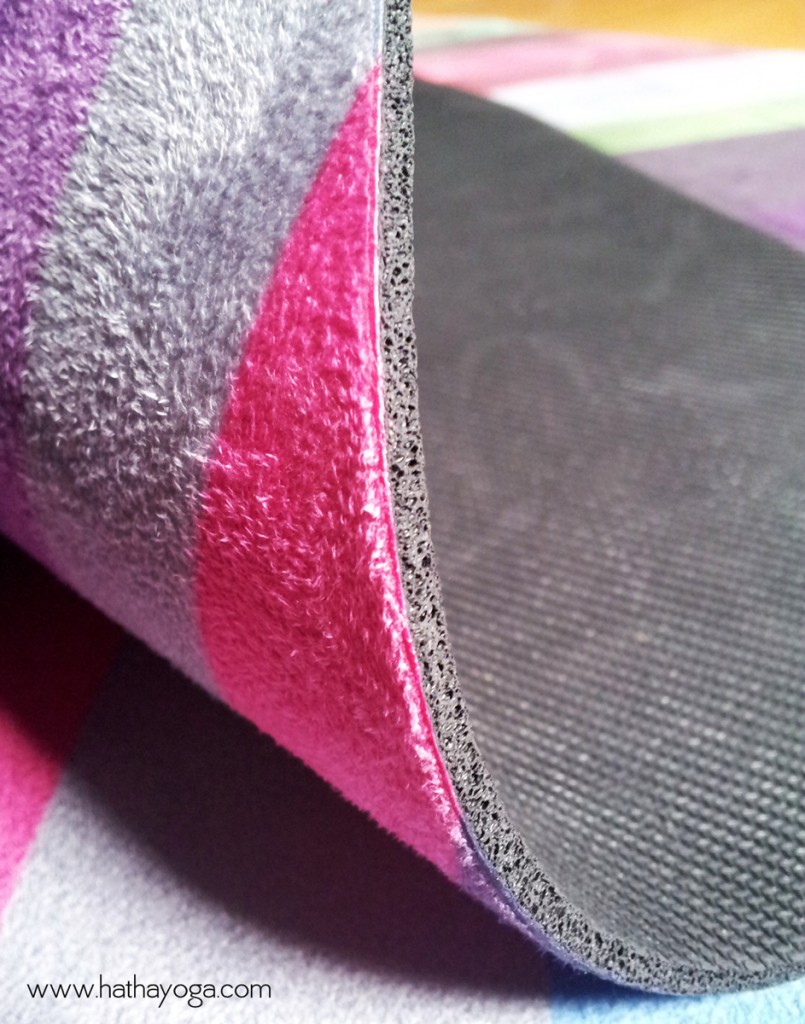 Where the rubber meets the road
We tested out the mat's ability to grip when wet by drenching our hands with water and there was no slippage at all. The Yoga Design Lab Combo Mat actually does what it's designed to do. Like the Yoloha Cork Mat we recently reviewed, the more you perspire, the better the grip.
However, if you do not practice hot yoga, have dry hands and feet, or tend not to perspire, you'll to have to lightly spray down the mat with water at the beginning of your practice so your downward dog doesn't go rogue.
Even if you do tend to perspire, you still might want to spray the mat at the beginning of practice to keep your grip steady before you work up your sweat. If you sweat a lot and end up with puddles, keep a towel handy to quickly mop up. That's helpful no matter what mat you have.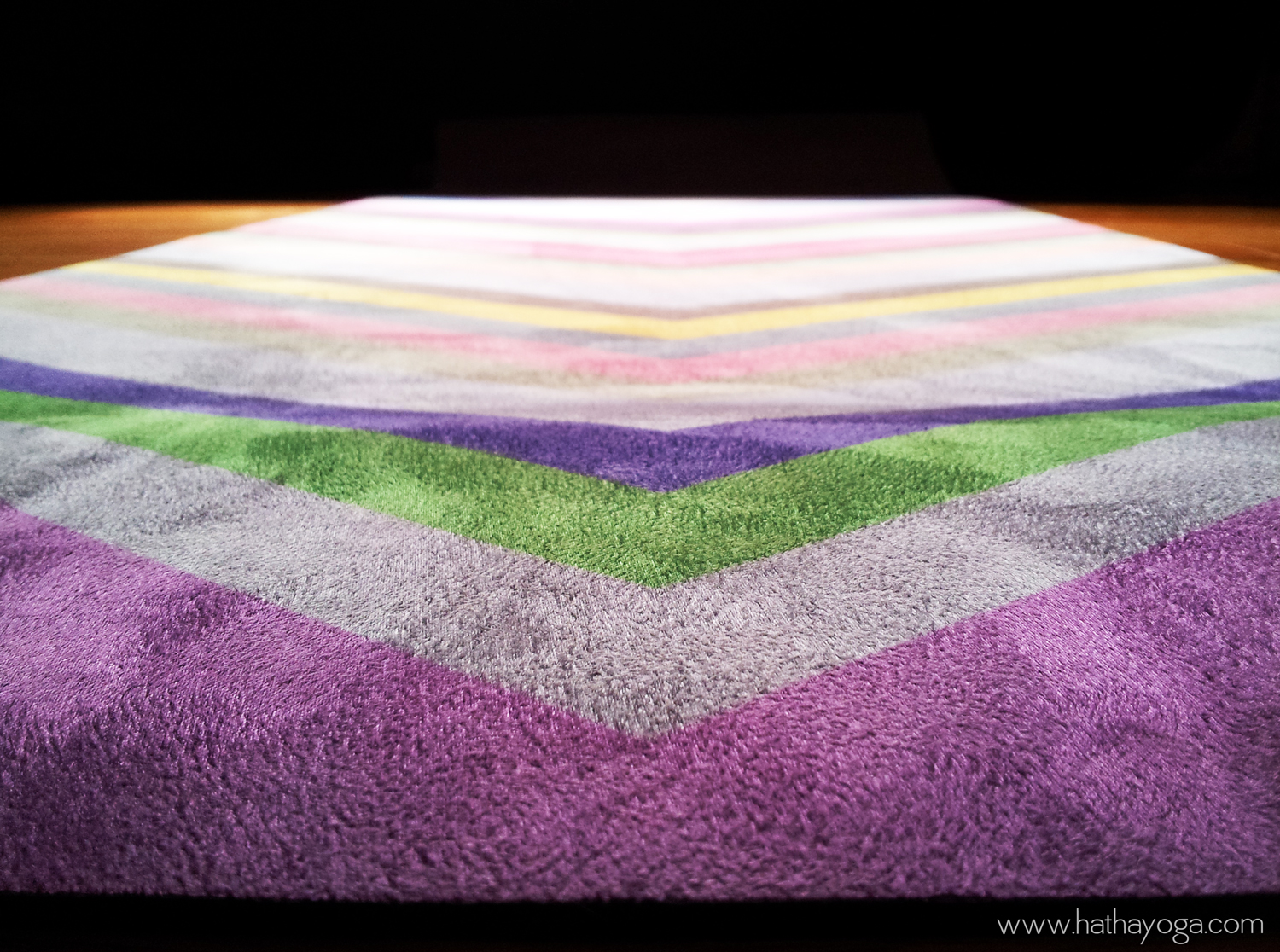 You should always be extra careful when practicing with any new mat. But if you practice strictly seated or lying positions, you likely won't need to worry about slippage. You can just enjoy the super soft feel of the microfiber without spraying it down. It actually is so soft and cozy feeling you might find yourself wanting to take an extended savasana with it.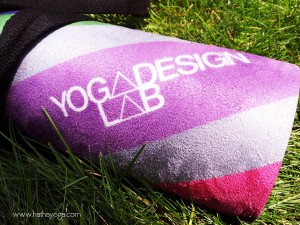 Sustainability factor
Another feature of the Yoga Design Lab Combo Mat that we appreciate is the fact that it's eco-friendly. The base of the mat is made from biodegradable natural tree rubber, and the designs are printed with non-fade water based inks. There was a slight natural rubber smell when we first unrolled the mat, but it dissipated quickly after letting it get some air.
The microfiber top layer itself, however, is made from 80% polyester and 20% nylon. Still, the entire mat is free from latex, silicone and phthalates.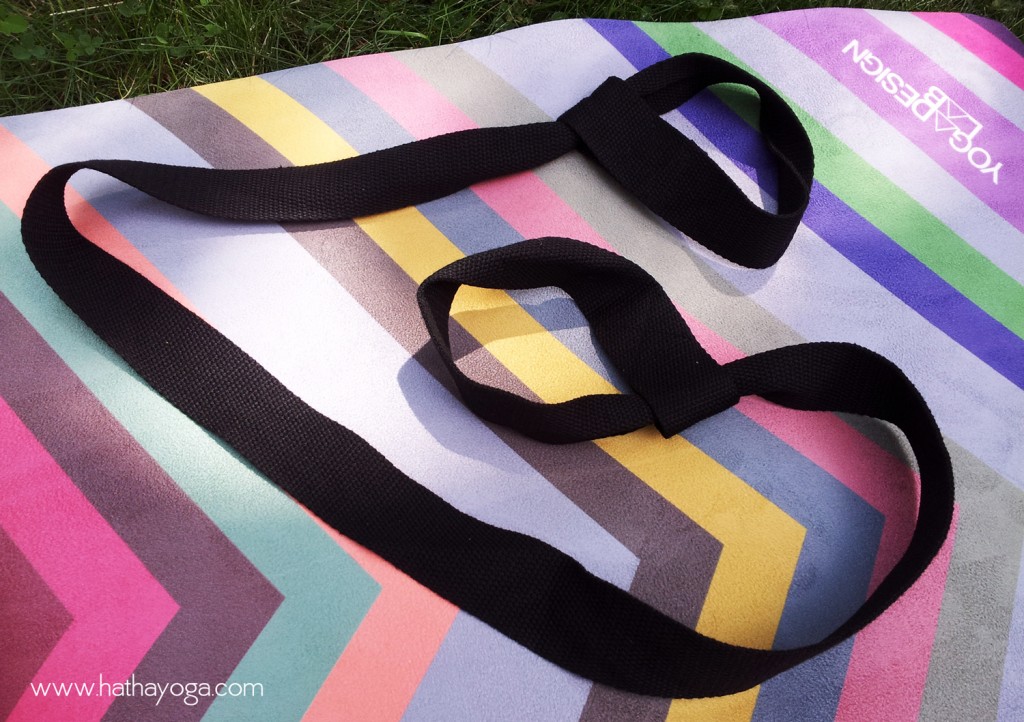 Measuring up
The Yoga Design Lab combo mat we have is 70″ x 24″, weighs 4.1 pounds, and is 3.5mm thick. It comes with a comfortable carrying strap which is easy to put on and take off. The rings are adjustable so you don't have to worry about rolling up your mat super tight every time.
4.1 pounds seems light enough to tote to class, but there is a more lightweight version of the mat which is only 3 pounds and 1.5 mm thick.
If you are buying the mat online, be sure not to confuse it with the Yoga Design Lab Hot Yoga Towels which look almost identical in photos.
Keeping it clean
The mat has rounded corners and feels pretty durable. It's machine washable, which is convenient, especially since the mat is designed specifically to absorb perspiration. But keep in mind that washing by hand will likely increase your mat's longevity.
Also, the company strongly advises to hang the mat dry, never to machine dry. It's also suggested to hang your mat dry after practice even if you haven't washed it.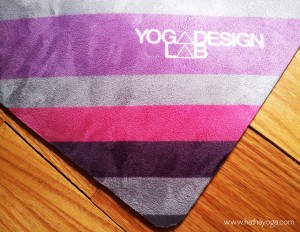 Yoga Design Lab paying it forward
One notable factor is that Yoga Design Lab gives $1 from every purchase to support urban youth yoga programs in need. It's always a bonus when companies give back to the community.
Overall, if you're looking for a beautiful, durable and eco-friendly yoga mat that is made to keep your grip during hot or sweaty yoga, we think the Combo Mat by Yoga Design Lab is an excellent choice.
Related Posts: