Most people would agree that a yoga mat is the most essential thing you need to practice yoga. Many would say it's the only thing you need.  It's also one of those personal items that you really want one of your own. There are a huge variety of mats to choose from, and many places to get them. Spending a little time shopping for a yoga mat will make sure you find the mat that's right for you, at a price you like.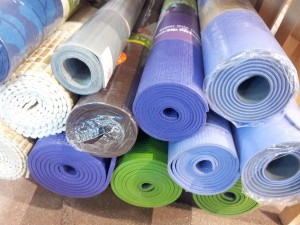 Things to look for when shopping for a yoga mat
The basic features to consider when shopping for a yoga mat are thickness and of course price.  Material is also important to people who want their mats environmentally friendly, non-toxic, and free of odors.  People who will be taking their mats to classes will also want to think about portability, and might want straps or a carrying case.
Thickness is the most important criteria since the point of the mat is to give you enough cushion so you're comfortable, but not so much that it interferes with your balance. Thickness might also be an issue if you plan on taking your mat places and care how large and heavy it is when rolled up.  Mats range from very thin and portable like the Gaiam Travel Yoga Mat, to very thick and cushioning like the Prosource Premium Extra Thick Yoga Mat. Mat length and width are also important to consider, especially if you're a tall person.
The material of the mat is also important, since it determines how sticky or slippery the mat is.  This is especially important if you tend to sweat.  You may want a mat of a particular color.  Color options can vary a lot depending on the material and the brand. Some people are also concerned with the environmental foot print of the mat, though this is actually a complicated issue.  Many companies use environmental issues as a marketing strategy.   Unfortunately marketing claims for yoga mats are not well-regulated.
First time shopping for a yoga mat
If this is your first time shopping for a yoga mat, you may want to consider a beginners kit such as the Valeo Yoga Kit or the Sivan Essential Yoga 5 Piece Beginners Kit.  Beginners kits are generally very competitively priced, and have extra items like blocks and straps which are fun to experiment with. The Gaiam Yoga for Beginners Kit even comes with a DVD with introductory workouts to get you started.
If you have any questions or would like to share your own shopping experiences please enter them in the comments below.  Happy shopping!:)
Related Posts: