UPDATE: Aurorae just announced that this yoga mat backpack is now available in three additional new colors; gold, taupe, and grey. I like them A LOT!  Nice!
I'm super excited to review this yoga mat backpack. It's Aurorae's Crossbody Sling Backpack, and I continue to be impressed with their products. It's obviously designed by people who understand how to lighten the load when traveling to and from yoga class.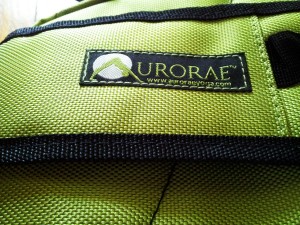 Since it's a yoga mat backpack, it's more than just a simple tote for your mat. It's smaller than a standard backpack, but you can still fit everything you need for yoga or Pilates class, and then some. It's got compartments and plenty of room for your wallet, phone, keys, tablet, yoga clothes, towel, foam brick, and maybe even your lunch too!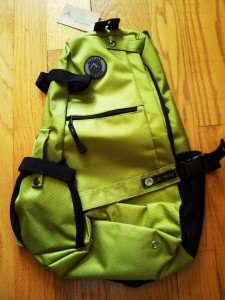 I prefer a yoga mat backpack over a bag that's designed to hold only your mat, which leaves you needing another bag for the rest of your stuff. I like the freedom of keeping everything contained in one place, and slinging over my shoulder, hands free.
Mat lock
This is their 2nd edition model and it's made with durable, heavy-duty polyester, so it's lightweight but sturdy. It's designed with a "mat locker system" to hold your mat in place. The mat holder has a black mesh base with a stretch band top and two easily adjustable lock straps.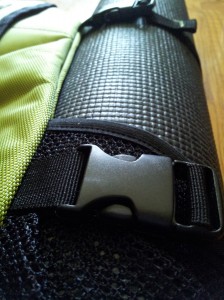 Of course it fits Aurorae yoga mats, but it will also fit most dense rubber mats, as well as thick polymer mats. The mesh part might be a bit snug for an extra thick foam mat, but you could still use the locking straps to secure it.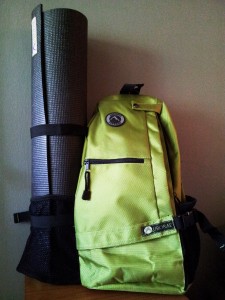 When you're not using the mesh pocket for your mat, there's a snap to close it up. This is great for when you're using the backpack for other purposes besides yoga.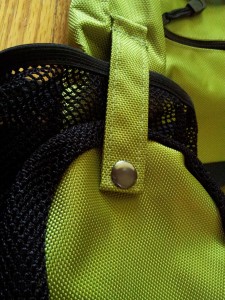 More than just a mat bag
On the side opposite the mat holder is a deep pocket for a water bottle. It works really well since there's an adjustable lock strap to secure your beverage in place.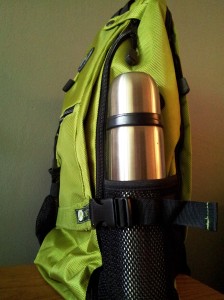 I don't know how many times I've dropped my water bottle out of my old, standard backpack. And of course it always happens when I'm rushing. Kudos to Aurorae for thinking of people like me!
Inner space
There are two large compartments, one of which can fit a laptop up to 15.4 inches. In addition, the front flap has a wide zipper pocket with a specialized wet liner to store your clothes or towel in after your workout. Extremely smart feature!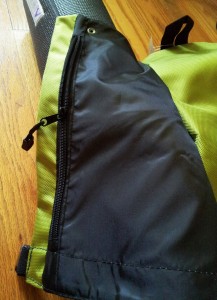 The bottom of the yoga mat backpack has a couple of metal ringed holes which I assume are for added ventilation.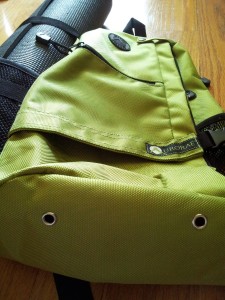 In the front of the backpack there's a small zippered pocket where you can keep your valuables. The zippers have well made pull tabs to make it super easy to zip compartments open and close.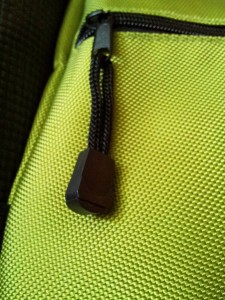 Style that's versatile
The crossbody strap is designed to ft over your right shoulder. The strap itself is easily adjustable and is double reinforced for strength. It's lightly padded and wider than a regular backpack strap. It also has a built in cell phone pocket which fits most average size phones.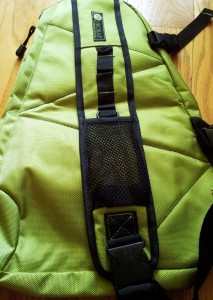 If you prefer to keep your smart phone/music player on the inside, there's a convenient headphone slot on the side of the bag. I only wish they had also put an additional pocket on the inside to hold the device, especially since they went through all the trouble to put in a headphone slot.
Overall, it's a pretty awesome yoga mat backpack. In addition to being a yoga sports bag, it can also be a great bag for work, school, biking, hiking, or travel. It's super useful for anyone on the go, especially if you prefer a crossbody sling style bag like I do.
A yoga mat backpack of a different color
The Aurora yoga mat backpack comes in five colors, green, blue, ebony, red and light purple. Hopefully at some point they'll make the bag in as many shades as they have for their mats!
I highly recommend the Aurorae Yoga Mat Backpack. The price is very reasonable for the quality, craftsmanship and design. And Aurorae offers a 100% satisfaction guarantee, sweet!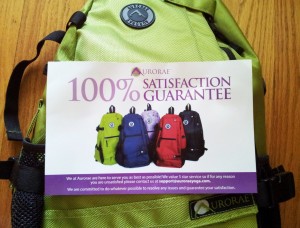 Related Posts: