It's easy to write a review about something when you're really excited about it. In this particular case it's the Yoloha Cork Yoga Mat.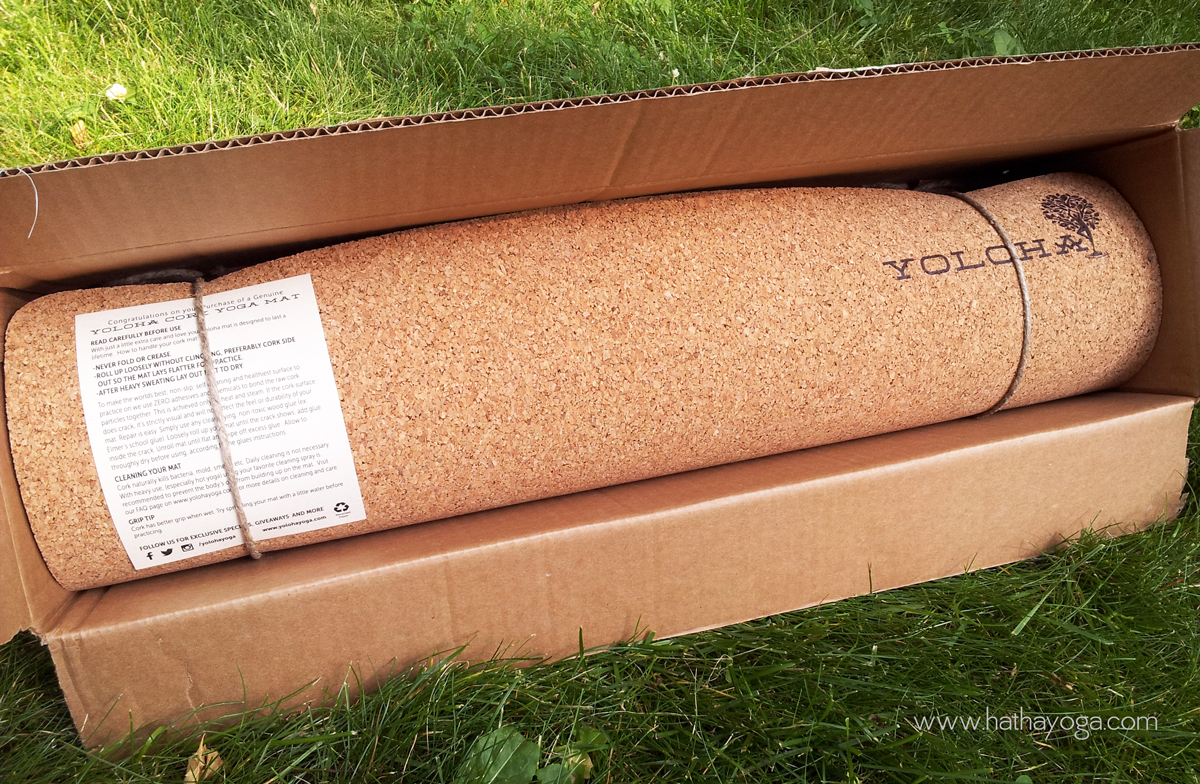 It's refreshing to see a company actually live up its claims of being eco-friendly and sustainable. Just because a company might call its product "earth friendly", it doesn't always mean it actually is. Thankfully, Yoloha Yoga is making a cork yoga mat that is environmentally friendly and of exceptional quality.
The Yoloha cork yoga mat contains no PVCs or harmful chemicals. That's not only better for the environment, it's better for our bodies. The mats are made in the U.S.A., and lo and behold, in case you're wondering, yes, they are also quite comfy for your practice.

What I noticed immediately is that even in their packaging Yoloha used no wasteful shipping materials. There's no plastic wrapping and not even any cellophane tape on the box. They keep it simple, as it should be. Of course, when opening the box be very careful. You would not want to slice this beautiful mat.
Put a cork in it
The top side of the Yoloha cork yoga mat is, of course, made from cork. Cork is a 100% natural, renewable, recyclable and biodegradable material. It's even harvested through an environmentally friendly process.
According to Wikipedia, "Cork production is generally considered sustainable due to the fact that the cork tree is not cut down to obtain cork; only the bark is stripped to harvest the cork. The tree continues to live and grow."
So the tree is essentially self renewing. And it usually lives to about 300 years.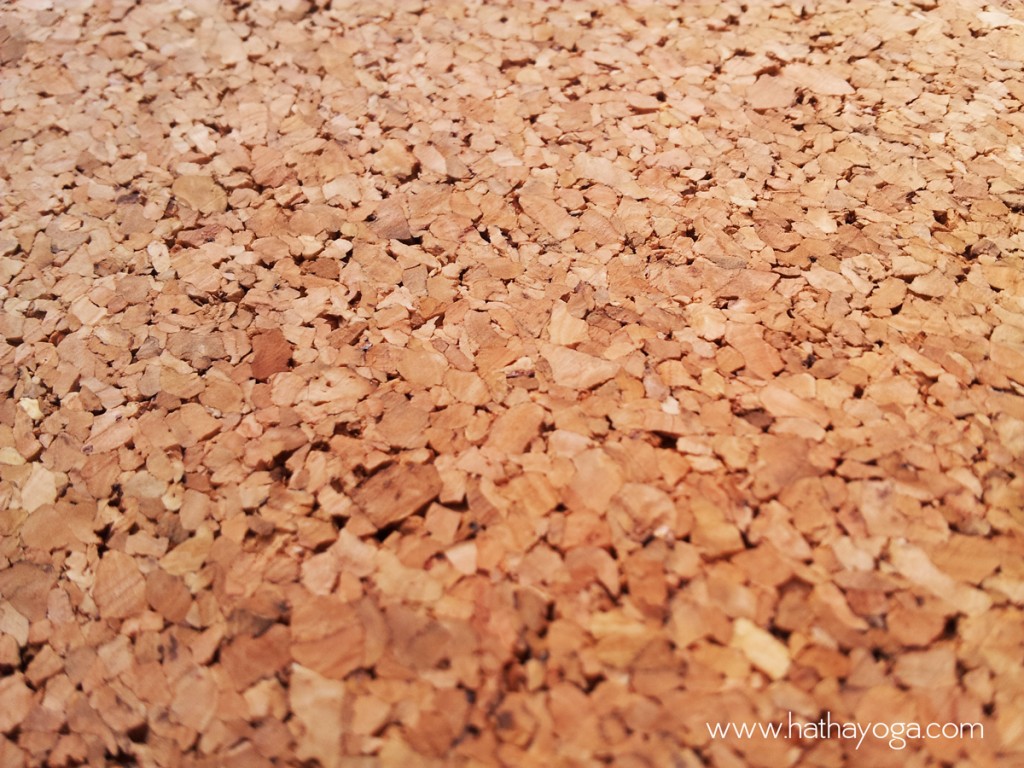 Slip or grip?
The cork feels smooth and soft, making it a comfortable surface for your yoga practice. It's also a great solution for those who practice hot yoga, or have a tendency to perspire a lot. The more you sweat, the better the grip.
We didn't have any slipping issues with the Yoloha's cork mat. We even drenched our hands with water to test it further and the grip was outstanding. Some people have slipping issues without perspiring. If so, cork is a material you might want to lightly spray with water before your practice, as some may consider it slippery when dry.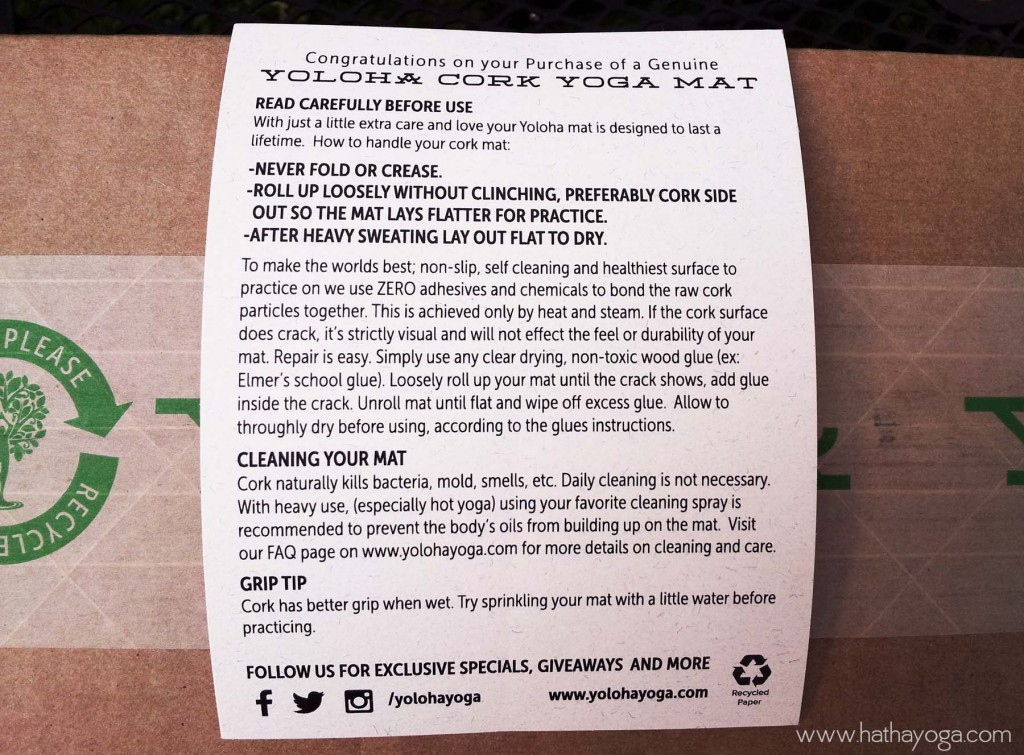 Yoloha states that their cork surface is "anti-microbial, naturally killing bacteria, mold and bad smells". This is a bonus if you don't have time to wash your mat after every practice.
Laying some rubber
The backing of the Yoloha cork yoga mat is made from 90% domestically produced recycled rubber tires. Not only is it a re-purposed natural material, but there's no rubber odor as you might find in other mats made with rubber.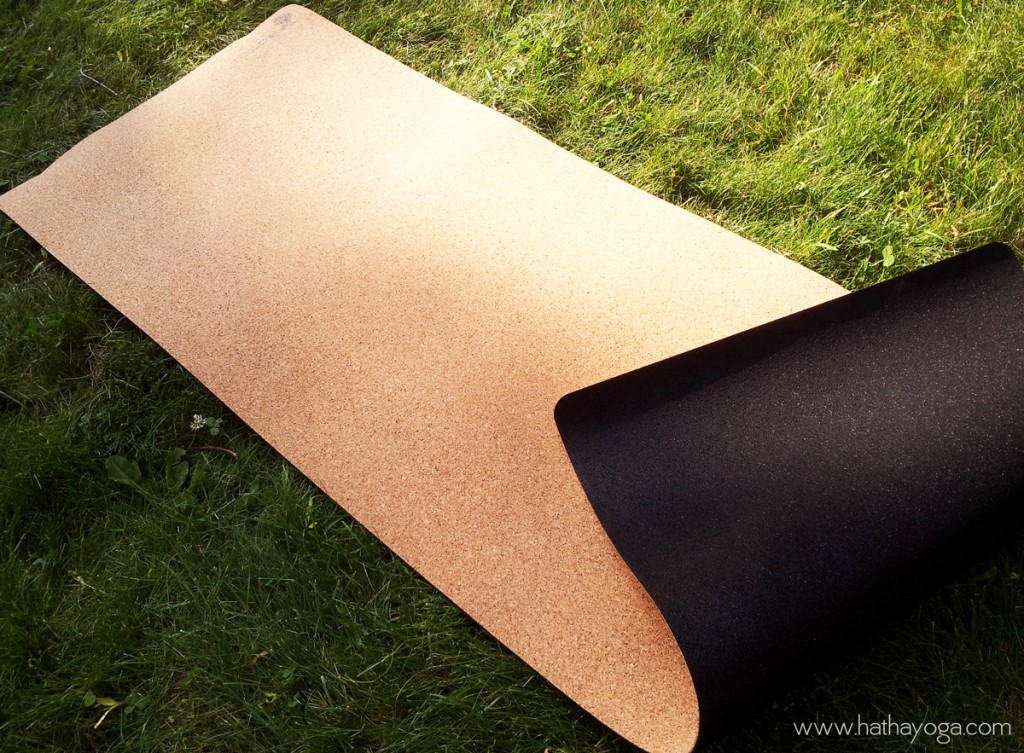 What I appreciate even more about this mat is that no adhesives or chemicals are used to adhere the cork to the rubber. The layers are bonded together with steam. How awesome is that!?
Worth the weight
The rubber backing also helps give your mat traction. It does however make the mat a bit heavier. Before trying the mat you should decide in advance if the weight is going to be an issue for you.
The mat we got is the 72″ x 24″, which is on the long end of standard length, and is 6 lbs. Yohola also offers 80″ x 24″ which is 6.8 lbs. There's even an 84″ x 30″ size in this mat!
The thickness of the Yoloha cork yoga mat is .25 inches, which is thicker and cushier than regular, plain rubber mats. However, if you prefer thick, soft foam mats, the cork yoga mat may not be for you. Or, it just might take some getting used to as it is a bit more firm.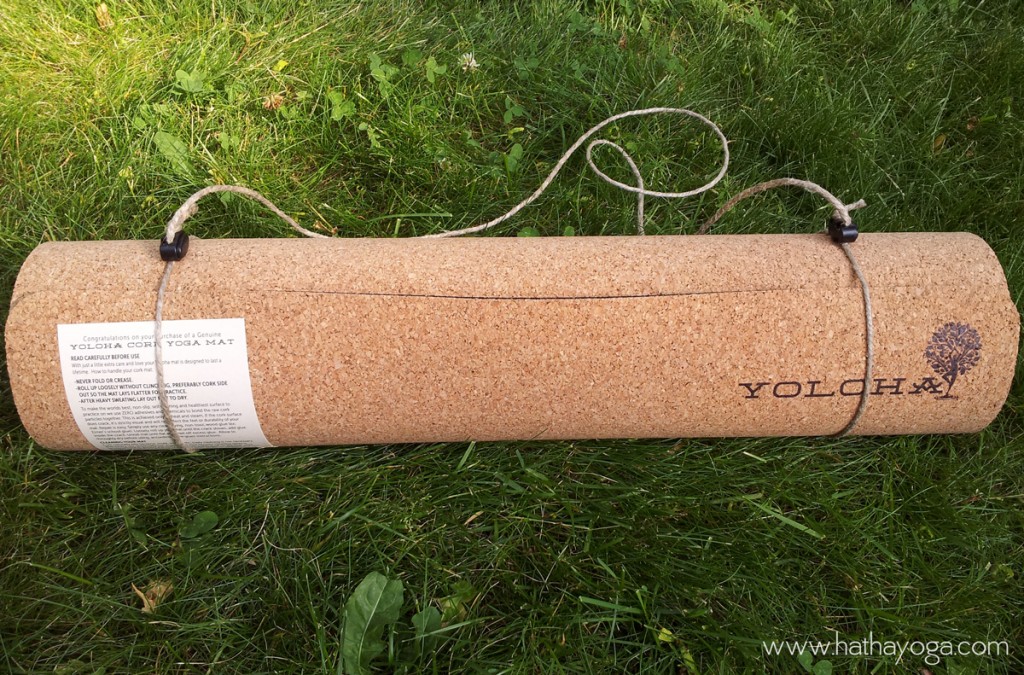 The Yoloha cork yoga mat comes with a sturdy hemp carrying cord which has clever, easy to use fasteners. But if you plan to carry the mat a considerable distance, you might want to consider getting one of Yoloha's cotton carrying straps. Because of its weight, carrying the mat by the hemp cord can become uncomfortable after a while.
Yoloha Yoga's guarantee
Yoloha Yoga guarantees their cork yoga mat to be free of manufacturer defects and to last a lifetime, if used and cared for properly. What does "if used and cared for properly" mean?  The Yoloha website makes clear what is covered under their guarantee and what isn't:
Examples covered under guarantee
Surface imperfections, such as gouges, slices, divots found at the time of purchase, before use
Worn out or peeling top or bottom surface from regular use
Examples not covered under guarantee
Creases/Folds/Discoloration from improper handling and/or storing- it is best to lay the mat flat or keep it rolled up
Uneven color patterns or discoloration at the time of purchase or due to use
Damage from excessive amounts of water or other liquids (i.e. submerging the mat under water)
Improper cleaning (i.e. harsh chemicals/cleaners etc.)
Damage from use other than yoga or similar fitness activities
Damage from outside elements/factors that puncture the mat
Extended exposure to direct sunlight
That all seems reasonable enough to me.
Handle with care
One thing I should point out is that if you do want the mat to last, you should take care not to fold it as you would not want to crack the cork. Either keep it laying flat or carefully rolled.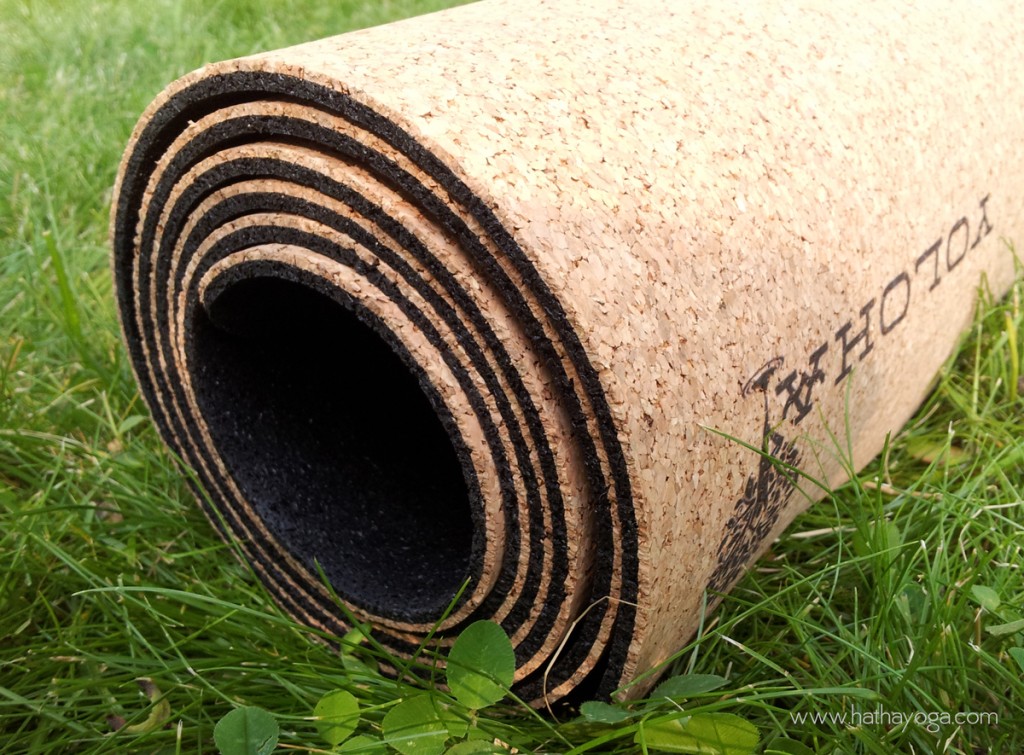 For the same reason, and also because of the weight of the cork yoga mat, you'll want to be careful not to lift the mat while it's open. I made the mistake of doing this and I heard a little crack in the cork surface along the edge of the mat where I was holding it. There was no noticeable damage, but I'm sure if I did that repeatedly it would start to show after a while.
The rubber backing will help keep the mat solid, but I want to keep the mat looking nice so I have been cautious to not let that happen again. Just as I handle my body with care as I practice, I will handle my mat with care. After all, it serves as my foundation.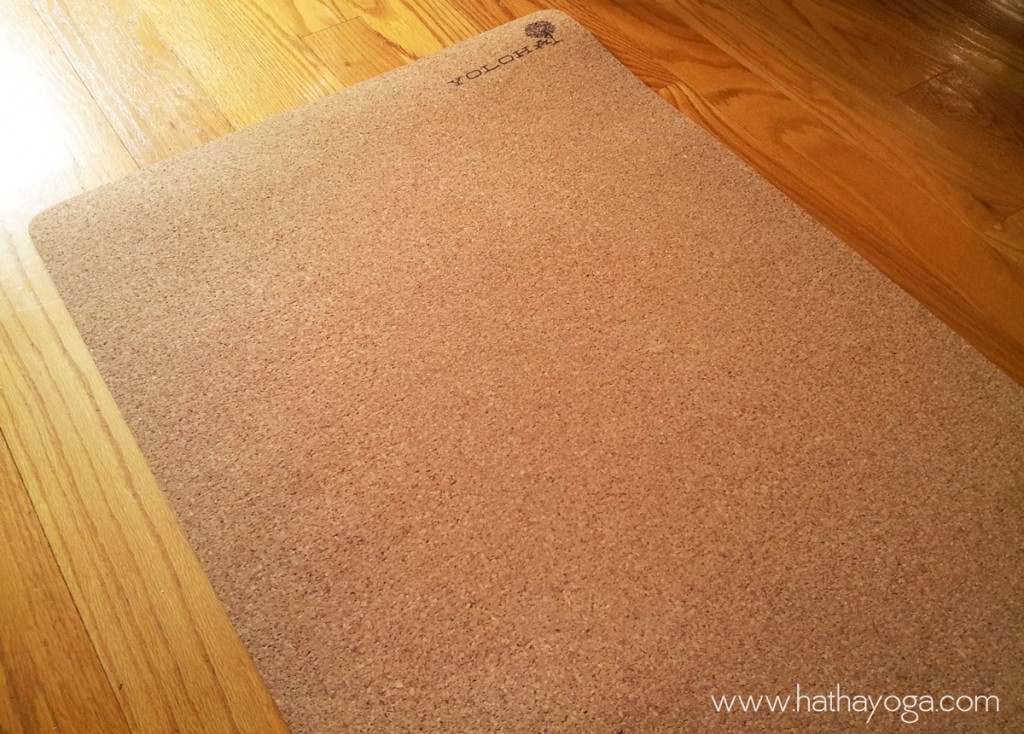 The weight of the mat with its rubber backing works to your advantage here since it stays securely down when open. It also rolls up nicely when you're done with your practice.
The Yoloha cork yoga mat
My yoga expert mother commented that this is the type of mat that, if you are lucky to have a yoga room, you'd want to leave open all the time because it's so pretty to look at.
The corners are rounded. Not only does this make the mat even more aesthetically pleasing, it also makes the mat less likely to get damaged.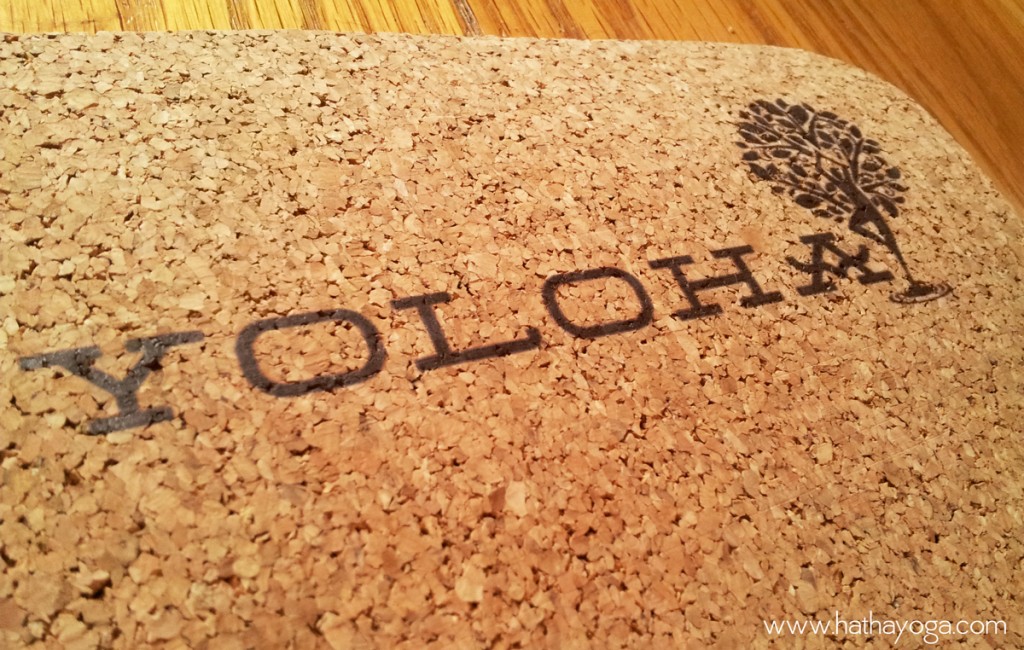 Cork is often used inside footwear to improve comfort and climate control. You can imagine how supportive it will be for your whole body during yoga practice.
Overall, if you want a high quality, truly environmentally friendly yoga mat where the grip actually increases when wet, then we highly recommend the Yoloha cork yoga mat.
Namaste.
Related Posts: