In my continued search to find the perfect yoga shorts and top I shopped around again and came up with a couple of decent options. I decided to try Pure Karma's organic sports bra, and some yoga shorts by Capezio.
Cotton please!
First and foremost, I want my yoga wear to be made from cotton. It's okay if it's a few percent Lycra or Spandex to keep its shape, but for me the fabric has to be mostly cotton. I prefer cotton because it breathes, it's natural, and it feels good against my skin.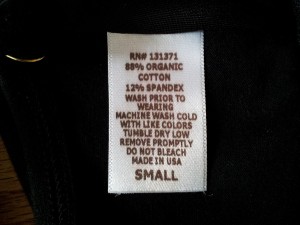 Pure Karma's organic sports bra
Not only is Pure Karma's organic sports bra made of 88% cotton, but the fact that it's organic cotton makes it even more stellar. The other 12% Spandex. That really is a winning combination for me.
Like most racerback tops, it's not adjustable. But I actually prefer a sports bra without any buckles or hooks. I don't like anything digging into my back when doing floor exercises. And there is no exposed stitching to cause scratchiness or irritation. Ahh, thank goodness!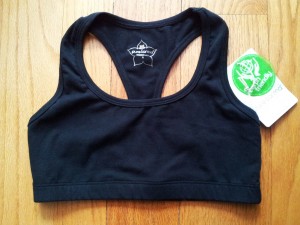 Support report
I'm a person of small/medium build, and it's hard for me to say how this organic sports bra would fare for someone larger than myself. But for someone of a similar build, I find this organic sports bra to be very supportive for low impact activities.  Whatever your size, it might be worth taking a chance on since there is free shipping and free return shipping.
The bra is lined in the front which gives it extra support. The lining also makes it possible to wear on its own as a work-out top, so long as you're not shy about exposing your torso.
The only thing I am not crazy about is that the lining is not cotton. It's some type of synthetic fabric. It's still very soft, and perhaps it is good for wicking, but I'd prefer if it were cotton or at least a blend on the inside as well.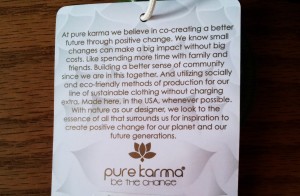 Still, however, it's one of the nicest sports bras I have come across. The fabric is extremely soft against my skin. It's obvious that it's made from quality materials and is very well constructed. And, it's made in the USA, which is nice for a change. The Pure Karma tag even mentions how they use socially and eco-friendly production methods.
Not actually "boys" shorts despite the name
The other item I decided try was the Capezio Women's V-front Boy Short. These shorts also met my criteria with its 90% cotton/10% Lycra/Spandex blend.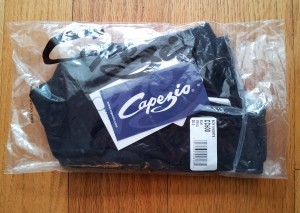 However, when compared to the Pure Karma organic sports bra, the fabric of the shorts does not seem as soft. And the fabric on the shorts feels a bit thinner. They are manufactured in China. Perhaps that's why they are so inexpensive.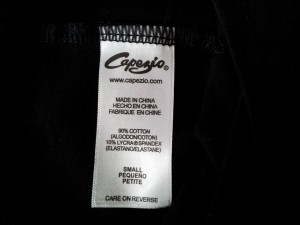 I like the idea of a V-front short. I prefer not to have anything constricting or pressing on my stomach, especially when I'm doing yoga or any other physical activity. So, I figured the design of these shorts would work well for me.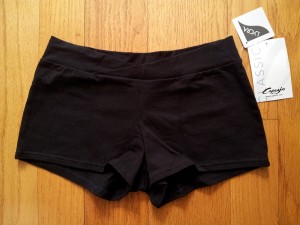 I also like that they are short shorts. They allow for more movement when exercising, yet they're fitted enough to stay on snugly and securely around the thigh. However, these shorts are slightly on the skimpy side for me. I like low-rise, but these are really low-rise.
Luckily, like the Pure Karma bra, free shipping and free return shipping were offered for the shorts as well. So there really was no risk to try them. But since they didn't cost very much, they might be worth keeping as a back-up pair of shorts even if they aren't my favorite.
Related Posts: