***BIG NEWS: Richard Hittleman's classic TV series "Yoga For Health" Has been released on DVD! Check it out at www.richardhittleman.com ***
Today I reached the halfway point of Richard Hittleman's Yoga 28 Day Exercise Plan. 14 days down, 14 more to go. This book is from the yoga pioneer who brought Hatha Yoga to the masses via TV in the 1960s and 1970s. I'm using the original hardcover version (shown in these pictures), but a newer paperback version is also available.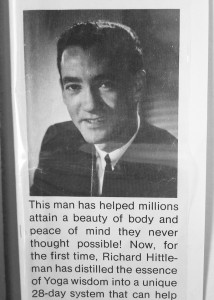 As she mentioned in her review of Richard Hittleman's Yoga for Health, Hittleman's televised programs were how my mom, Lee, began to practice yoga in the first place. She's our resident expert here at HathaYoga.com, and she still refers to his work in her current practice and teaching. I see that it continues to benefit her in numerous ways. So, I thought I should look more deeply into his approach to Hatha Yoga.
Standing the test of time
The book "Richard Hittleman's Yoga 28 Day Exercise Plan" was first published in 1969. It does make occasional references to a 1960's woman's lifestyle which are a bit outdated. However the practice plan and the yoga poses (asanas) themselves remain timeless.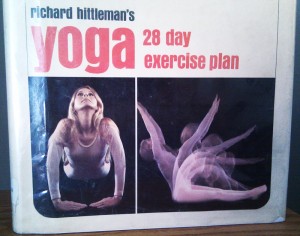 The foreword to the book promises that practically anyone, regardless of age or physical condition, will benefit from diligently following this 28 day plan.It also contains important pointers on preparing for your practice. An example is the wise suggestion to wait at least 90 minutes after eating before practicing. After performing the abdominal lifts a couple of times, it becomes obvious why!
The asanas
Each day presents a series of asanas with photos and a brief, specific explanation of how to perform each pose. Subsequent days have a combination of new and/or advance positions combined with poses learned on previous days.
I am finding the pace of Richard Hittleman's Yoga 28 day plan to be a good speed for learning. It starts off with beginner poses and stretches. The level of difficulty increases as the days advance. There are often reminders to not go beyond one's abilities, and to never strain. If an advance position is too challenging, he suggests referring back to an earlier version of the pose.
Speaking of referring back to earlier poses, this is one thing that some might find a little cumbersome. In Richard Hittleman's Yoga 28 day plan, as the days progress, the student is instructed to perform a pose learned on a previous page. The new day's instruction might show a single photo of the final position of the asana.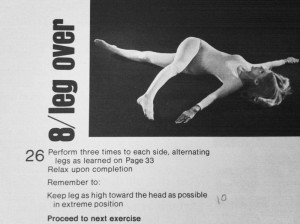 However, you're not getting the full recount. For someone very new to Hatha Yoga, this means you'll have to bookmark your current page and go back to the pages referred to, and then back again to you bookmarked page.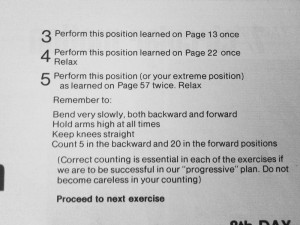 Even if you learned how to perform an asana on a previous day, it's not always easy to remember exactly how long to hold the pose. So, it might take a little extra patience when needing to refer back. I guess you can chalk that up to yoga's whole learning process. Patience is a worthwhile thing to practice!
Progress
The good thing is, you'll likely have to look back less frequently as the days progress. But it would be beneficial to check back occasionally to be sure you're not missing any steps, and see that you're performing them correctly.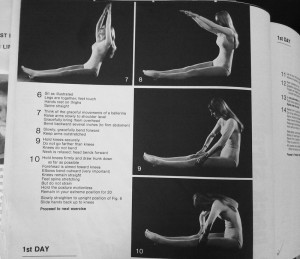 I would imagine that having to reprint the instructions every time a pose was repeated would make for a very large book. So, I understand why it was structured this way. Still, I as I follow along I am reminded how much easier it is to follow a video as opposed to a book.I've seen compilations of Richard Hittleman's Yoga for Health TV program, but they are quite costly.
Richard Hittleman's yoga practice plan
Most days include an additional practice plan reviewing the poses of the day. Here the student is often instructed to repeat the most advance position of each position performed that day.
Each day's practice runs anywhere from 20 minutes to an hour, depending upon a couple of factors. Some of the shorter days are to allow your body to "reset", as Hittleman puts it. A practice session could take a bit more time if you are new to a pose, or simply if you'd like to rest longer between poses. I find this is actually a surprise benefit of following along with a book as opposed to a video. You can go at your own pace.
Thoughts for the day
At the end of each practice, there is a page titled "thoughts for the day". One day Hittleman might discuss how to approach your physical practice for maximum benefit. Another day he might talk about how to relieve tension. He also touches upon how one should eat for sustained energy. It sounds like he'll go further into that in the second half of the book. More on that when I complete the 28 day program, so stay tuned!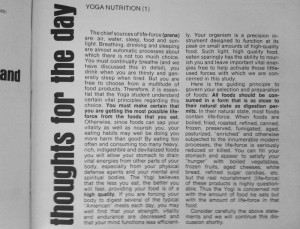 I'm looking forward to the second half of Richard Hittleman's Yoga 28 day exercise plan. Hopefully I'll find that his teachings will have as positive of an impact on me as they have had on my Mom!
Related Posts: